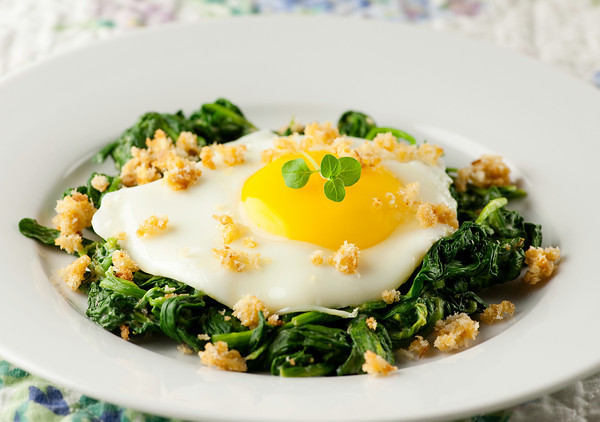 I don't think my love affair with eggs for dinner will ever, ever end, for as long as we both shall live.  And while I am all for the usual suspects (I mean, who doesn't adore pancakes at 7pm?),  when I run across a salty, savory version of eggs, I am even happier…and that's exactly what this little number is.
You start with the bread crumbs.  Whirl a slice of bread in your food processor until it is a pile of crumbs, toss it with some olive oil and a little mustard, and then bake them in the oven for 5-10 minutes until they are golden and crispy.  Next you saute some baby spinach until it is all nice and wilted, and then stir it up with a little more mustard and a teeny bit of half and half.  Last but not least, fry up a few sunny-side-up eggs.
All you have left now is the assembly: bed of spinach, topped with eggs, sprinkled with mustard crumbs.  I tossed some fresh oregano on top because it is going bananas in my Aerogarden and I am using any excuse to snip it back and use it as a garnish.
Now it is all over but the eating, and the singular happy feeling of having breakfast for supper!
Eggs with Mustard Creamed Spinach and Crispy Breadcrumbs, from Bon Appetit
Eggs with Mustard Creamed Spinach and Crispy Breadcrumbs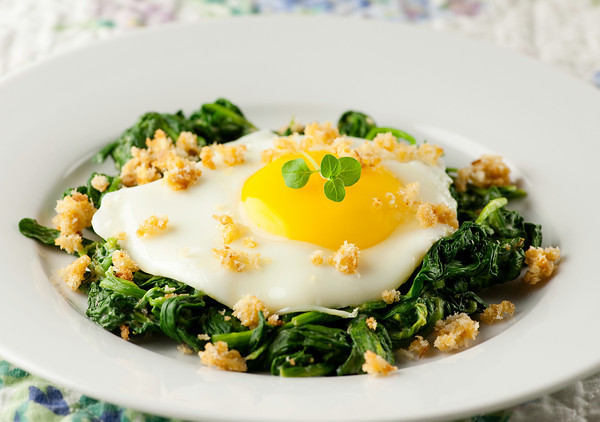 Ingredients
1/2 cup coarse fresh breadcrumbs made from crustless country-style bread
5 teaspoons Dijon mustard, divided
2 teaspoons plus 1 tablespoon olive oil
1/2 teaspoon mustard seeds (if you have them. If not don't worry.)
1 9-ounce package fresh spinach leaves
3 tablespoons half and half
1 teaspoon chopped fresh thyme
2 large eggs
Fresh thyme sprigs (for garnish)
Directions
Preheat oven to 400°F. Toss crumbs with 2 teaspoons mustard, 2 teaspoons oil, and mustard seeds in medium bowl to coat. Scatter on rimmed baking sheet. Bake until golden and crisp, 6 to 8 minutes.
Meanwhile, add enough water to deep large nonstick skillet to cover bottom. Add spinach; toss over high heat to wilt, about 2 minutes. Scrape into sieve set over bowl; press out liquid. Wipe out skillet; reserve.
Transfer spinach to medium saucepan. Add 3 teaspoons mustard, half and half, and chopped thyme. Stir over medium heat until thick, about 3 minutes. Season with freshly ground black pepper. Remove from heat.
Heat remaining 1 tablespoon oil in reserved skillet over medium-high heat. Crack eggs into skillet, spacing apart. Fry until whites are cooked through, 3 to 4 minutes. Divide spinach between 2 plates, spreading out as base for eggs. Top with eggs, crumbs, and thyme sprigs.