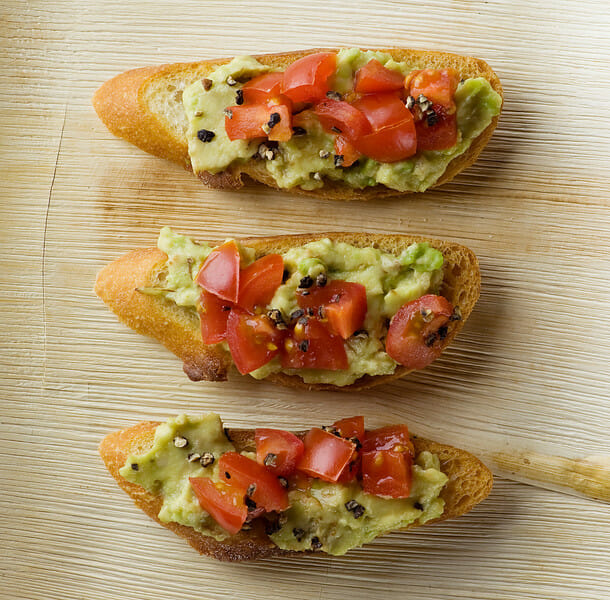 Okay, so usually I jump right into talking about the food and why I love it and how to make it and I promise I am going to get to all of that, but first I have to talk about what these scrumptious little crostini are sitting on.
It looks like a piece of wood, I know, and that's because I am addicted to photographing my dinner in super-close-up shots, but they are actually on a plate that is made out of a fallen palm leaf leaf that is steam-processed with water and dried and turned into a plate.  Here's a picture that gives a better look.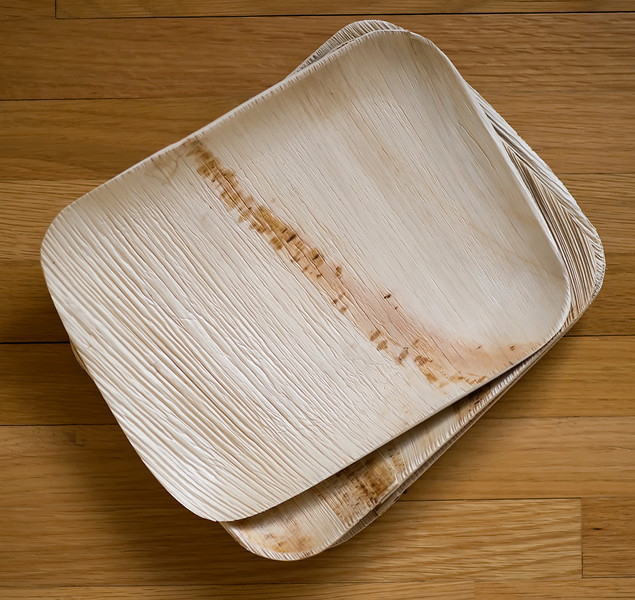 And another with an arbitrary apple on it, just to show the size.
They are described as being "single use" – in other words, equal to your garden variety paper plate – but I can tell you that there is NO way that i am tossing these babies after one use.  They are sturdy and beautiful and definitely being used a whole lot more than once.  Because they are made of separate leaves, each one has its own special look and feel.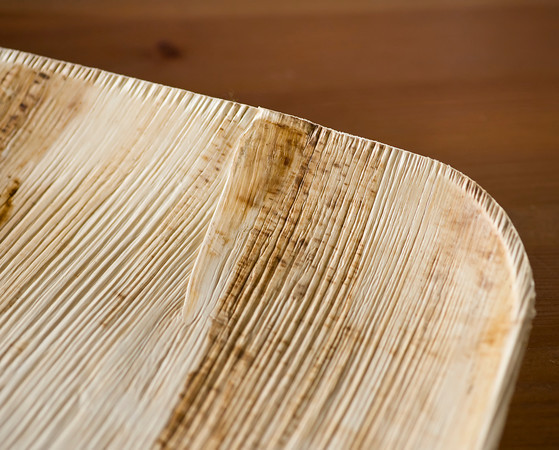 So not only is it gorgeous but also environmentally responsible…how great is that?  I found them in a pack of four at Fairway (of course), but I know they are also at Whole Foods and a whole raft of other places.  They are made by a company called VerTerra – click here for more info,and if you can't find them locally click this link: VerTerra – Party Perfect Dinnerware 8 Leaf Pressed Plates (8 in. x 8 in.)
  Just for the record, the Verterra folks don't know me, have never heard of me, and didn't send these to me…I found them my own self.  Well, actually the Southern husband found them while I was in a whole different aisle deliberating over canned plum tomatoes.  A man has to amuse himself somehow.
Meanwhile, back at the actual reason for this post, let's discuss the crostini.  I think that you can put pretty much anything on a piece of french bread that has been lovingly basted with olive oil and toasted and get away with it, but it doesn't get too much better in terms of speed and taste than this recipe.  While the crostini is toasting, you chop up some cherry tomatoes.  Then scoop out the inside of a nice ripe avocado, mash it up with some lemon juice and sprinkle a little coarse salt on top.
All that's left now is the assembly: spread a little mashed avocado on each crostini, sprinkle on a few chopped tomato pieces…I like a little cracked pepper on mine to give it a little bite, but some oregano would be lovely, or a teeny bit of sea salt…improvise away!   These are of course a fabulous and easy appetizer, but they would make a perfect light lunch too…or if you are me and my Southern husband, a Friday Night Lights dinner.  Hurray for crostini!

Tomato and Avocado Crostini, adapted from Everyday Food 
Tomato and Avocado Crostini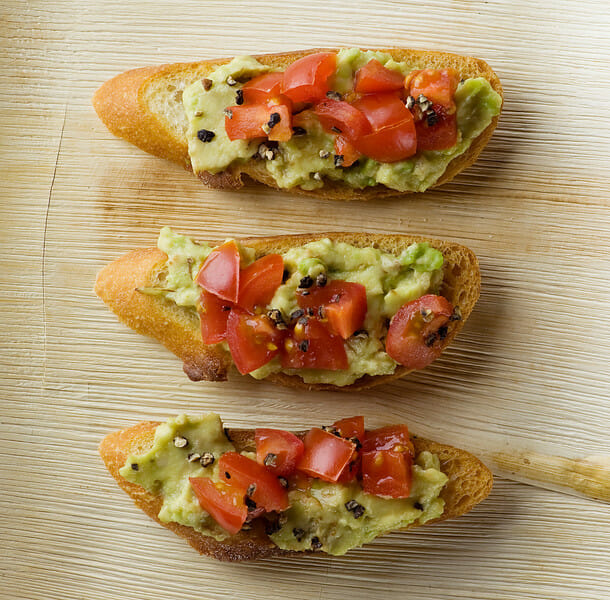 Ingredients
One small baguette, sliced diagonally into 1/2 inch slices
Olive oil
One ripe avocado
One tablespoon lemon juice
Coarse salt and pepper
1 pint cherry tomatoes, chopped
Directions
1. Preheat oven to 350. Brush the bread slices with some olive oil, arrange in a single layer on a cookie sheet and bake until golden, about 8 minutes. Don't worry if the center isn't browned - as long as the edges are golden you are in good shape!
2. Peel and pit the avocado and mash with a fork with the lemon juice and a pinch of salt and pepper.
3. When the crostini are cool enough to handle, spread with avocado and top with tomatoes and whatever other garnish catches your fancy!