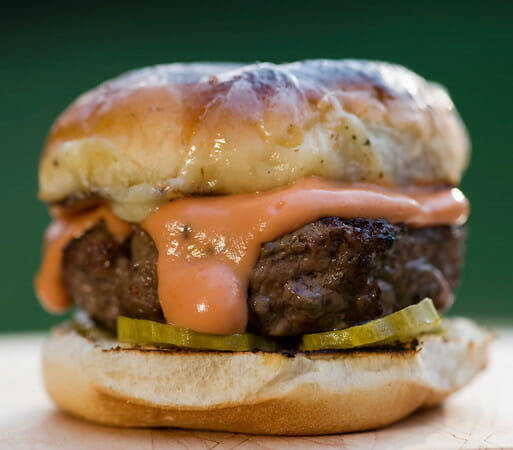 ½ cup mayonnaise
1 tablespoon Dijon mustard
1½ tps roasted garlic
¾ cup ketchup
5 tablespoons vodka
2½/ pounds ground beef
6 hamburger rolls
6 slices cheddar cheese
sliced pickles
1. Mix mayo, mustard, garlic, ketchup and vodka together and mix well. Set aside.
2. Form beef into 6 patties and salt and pepper them. Grill to your liking, adding cheese at the last minute to melt. Toast the rolls during the last minutes of grilling.
3. Place several pickles on the bottom of each roll, top with burger, and spread about 2 tablespoons of sauce on each burger.
4. Place top of bun over all and serve at once.
Recipe adapted from Marc Murphy's recipe [3]