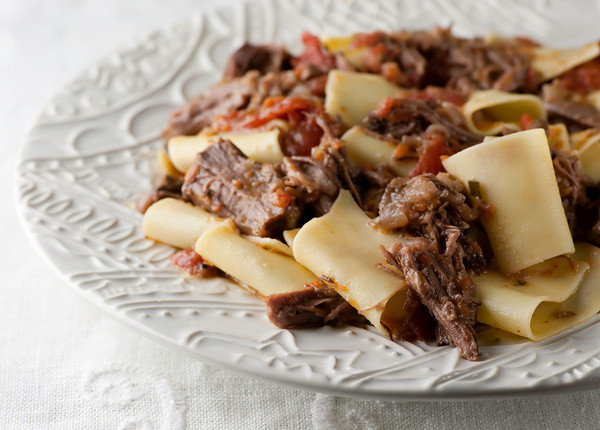 28-ounces short ribs
Extra-virgin olive oil
1 handful each fresh rosemary and fresh thyme, stems discarded and leaves finely chopped
1 small red onion, peeled and finely chopped
4 garlic cloves, peeled and finely chopped
1 carrot, peeled and finely chopped
1 celery stick, finely chopped
2 wineglasses Chianti
Two 14-ounce cans plum tomatoes
2 tablespoons pearl barley
Salt and freshly ground black pepper
14 ounces fresh or dried pappardelle
7 tablespoons unsalted butter
2 handfuls grated Parmesan cheese, plus more for garnish
1. Season the meat with salt and pepper. In a Dutch oven, fry your meat in a little olive oil until golden brown. Add your herbs, onions, garlic, carrot, and celery. Turn the heat down and continue to cook for 5 minutes, until the vegetables have softened.
2. Add your red wine and continue to simmer until the liquid has almost cooked away but left you with a fantastic color and fragrance.
3. Add the plum tomatoes, the pearl barley, and just enough water to cover the meat by ½ inch. Make yourself a cartouche of parchment or wax paper. Wet it with a little water, rub it with a little olive oil, and place it over the pan. Put a lid on the pan as well, as this will retain as much moisture as possible while cooking. Cook over really low heat for about 2 to 3 hours, depending on the tenderness and type of meat. It's ready when you can literally pull the meat apart in tender strands.
4. At this point, season the braise carefully with salt and pepper to taste and allow to cool slightly before removing the meat from the pan. Using 2 forks, pull apart all the lovely pieces of meat, throwing away any bones. Skim any fat from the surface of the braising liquid. Put the meat back in the pan and place over low heat.
5. It's now ready to serve, so cook your pappardelle in a pan of boiling, salted water for 3 minutes if using fresh pasta or according to the package instructions if using dried. Once it's cooked, drain it in a colander, saving some of the cooking liquid in case the sauce needs a little loosening. Remove the pot of stewed meat from the heat and stir in the butter and Parmesan with a little of the cooking water — this will make it juicy and shiny. Toss together with your pasta and serve immediately. If desired, serve sprinkled with a little finely chopped fresh rosemary and some more grated Parmesan.
From Jamie Oliver's recipe via the fabulous Leite's Culinaria [3]