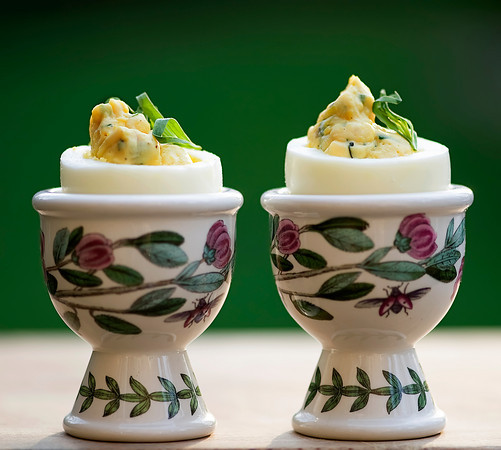 Well, the Easter Bunny is almost here, and you know what that means.  Yes yes, there are chocolate bunnies, and jelly beans, and we all need to switch our closets from the winter clothes to the summer clothes, but that's not the most exciting part.  The most exciting part is that there are hard-boiled eggs everywhere you turn.  Which means…deviled eggs!!!
Now, the garden variety deviled egg is just fine with me, and I can eat an unmentionable number of them at a clip.  But a whole new deviled egg world opened up to me with this month' issue of one of my favorite magazines, TASTE OF THE SOUTH.  Along with a whole raft of recipes for barbecue that I intend to make all summer long, there was also an entire array of recipes for variations on the deviled egg…including this little beauty, which I promptly added to our Friday Night Lights rotation.
Among other things, I learned a deviled egg fact that I had never learned before, which is this: in addition to the usual approach, which is to cut the eggs in half lengthwise and filled them up with the mashed egg yolk filling, you can also just lop the top off, carefully scoop out the yolk and then refill it as an upright egg (as in the picture above0.  Who knew???
Of course, you can also make them the regular old way.  I was so overwhelmed with the possibilities that I did both.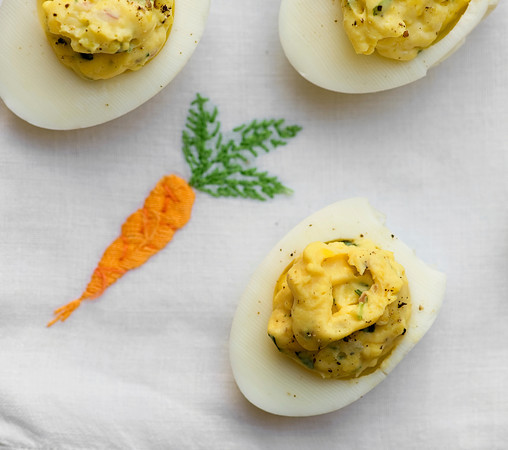 There's no such thing as too much deviled egg, after all.  This scrumptious spin on the traditional recipe calls for mixing the mashed egg yolks with mayo, Dijon mustard, chopped fresh tarragon and chopped shallot.  Grind a little fresh pepper in there and you are in deviled egg heaven.  (Which now that I read that sentence back seems like a contradiction in terms, but when it comes to deviled eggs, who cares?)

Print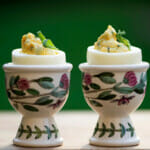 Deviled Eggs with Tarragon and Shallots
---
Ingredients
One dozen hard boiled eggs
6 tablespoons mayonnaise
1 tablespoon Dijon mustard
1 1/2 tablespoons chopped fresh tarragon
1 1/2 tablesppons chopped fresh shallot
1/2 teaspoon ground black pepper
1/4 teaspoon salt
---
Instructions
Cut eggs in half lengthwise, or cut the top third off the top. Scoop out the yolks and mash with a fork.Add all remaining ingredients to the mashed yolks and mix well.Spoon yolk mixture into egg whites. (You can also scoop the mixture into a large ziploc bag, snip off the bottom corner and squeeze the mixture into the egg whites, similar to using a pastry bag. I find this to be a lot less messy.)Garnish with more ground pepper and tarragon sprigs if you like, and serve!
Recipe from Taste of the South