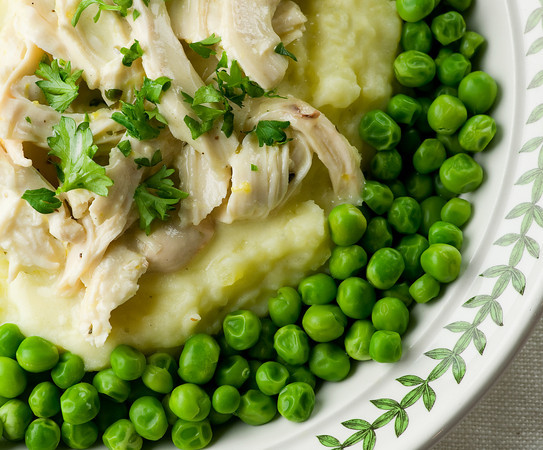 2 chicken breasts on the bone
Olive oil
Salt and pepper
4 tablespoons butter
2 tablespoons minced parsley
1 tablespoon lemon juice
Grated zest of one lemon
Fresh ground pepper
¼ cup chicken broth
½ cup heavy cream
1. Preheat oven to 375. Rub chicken with olive oil and season with salt and pepper, and roast for about 45-50 minutes or until done. Remove from oven and let cool. Remove meat from the bone, tearing into bite-sized pieces.
2. Melt butter in large skillet. Add lemon juice, lemon zest, chicken broth and pepper and simmer for about 5 minutes. Add cream and cook, without boiling, until sauce is hot. Add chicken and cook until warmed through.
3. Place a serving of mashed potatoes in the center of each plate and surround with a ring of peas. Spoon chicken and sauce on top, and garnish with parsley. Serve at once.
{Please close floating ads before printing.}
---
Article printed from Framed Cooks: http://www.framedcooks.com