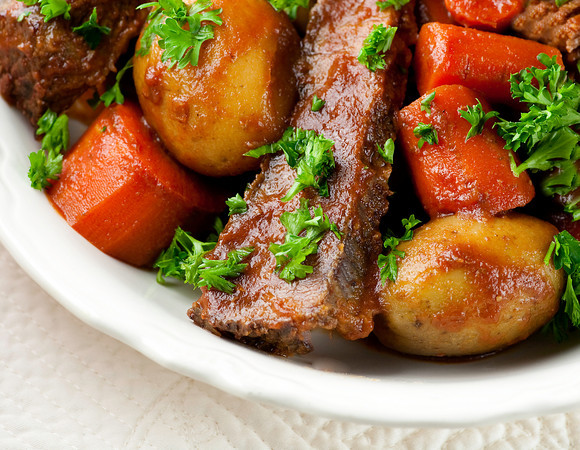 1 medium onion, peeled and quartered, stem end left intact
1 pound new potatoes (about 12)
1 pound medium carrots, cut into 2 1⁄2-inch lengths
2½ pounds beef brisket, trimmed
kosher salt and black pepper
1 6-ounce can tomato paste
½ cup brewed black coffee
2 tablespoons Worcestershire sauce
2 tablespoons packed light brown sugar
2 tablespoons chopped fresh flat-leaf parsley
Season the beef with 1 teaspoon salt and ¼ teaspoon pepper and place in the bottom of a 5- to 6-quart slow cooker. Add the onion, potatoes, and carrots.
In a small bowl, whisk together the tomato paste, coffee, Worcestershire sauce, and brown sugar; pour over the beef and vegetables. Stir things around just a little until some of the sauce reaches the bottom of the pot. Cover and cook on low until the beef and vegetables are tender, 7 to 8 hours.
Slice the beef across the grain and serve with the vegetables and sauce, sprinkled with the parsley.