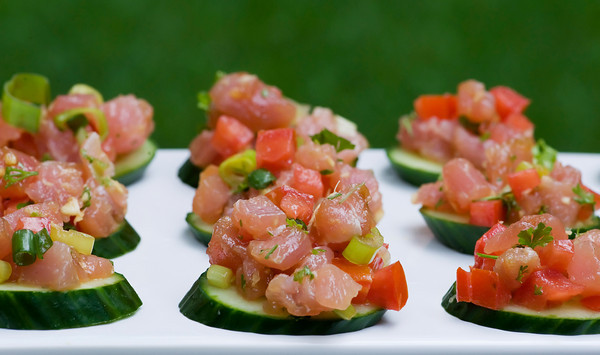 8 ounces sushi-grade tuna, cut into 1.2 inch cubes
2 sliced scallions, white and green parts
I large tomato, chopped
1 tablespoon chopped fresh cilantro leaves
1 tablespoon grated, peeled fresh ginger
1 tablespoon soy sauce
1 tablespoon Asian sesame oil
1 seedless cucumber, sliced diagonally into ¼ inch thick rounds
1. Place the tuna, scallions, cilantro, ginger, soy sauce and sesame oil in a medium bowl and mix gently until well-blended.
2. Arrange the cucumber slices on a large serving tray and pile a generous tablespoon of the tuna mixture on each cucumber slice. Serve immediately.
{Please close floating ads before printing.}
---
Article printed from Framed Cooks: http://www.framedcooks.com