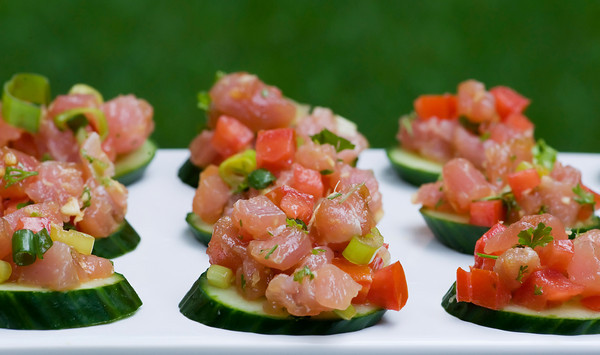 I know that when it comes to raw fish, the world divides into two distinct camps.  There is the "I love it SO much I could eat it every day" camp.  That is the one I live in.  Then there is the "Get away from me with that raw fish" camp, and that is the one that the teenager lives in.  And while it is possible every once in a blue moon to get someone to cross from the teenager's camp to mine (I did it with the southern husband but it was before we were married and for all I know it was one of his tricky dating techniques), I'm not even gonna try.  All you anti-sushi people out there?  I love you anyway, and I will be back in a couple of days with something that is completely cooked.
In the meantime, however, we must discuss the tuna tartare recipe from the fabulous STONEWALL KITCHEN FAVORITES.  This is an amazingly quick, easy and (if you are pro-raw fish) spectacularly delicious little number.   You need to get sushi-grade tuna, which I promise is not hard…go to wherever you usually buy your fresh fish and ask.  You chop it up in tiny little pieces and mix it up with chopped tomato, scallions, some ginger and sesame oil and rice vinegar, and then scoop it out onto sliced cucumber rounds.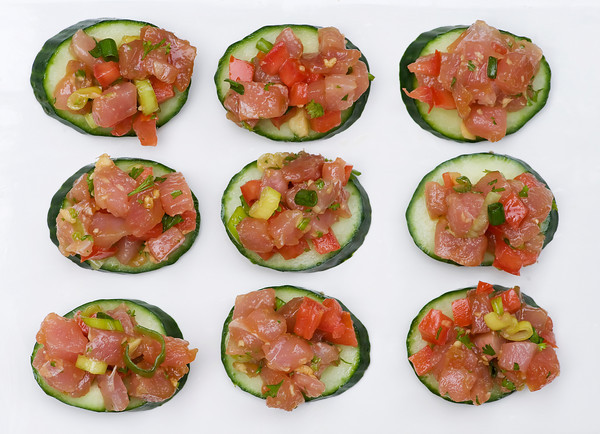 It obviously makes a fabulous, dramatic appetizer, but the sushi-loving southern husband and I had it for a Friday Night Lights dinner and were deliriously happy.  Raw-fishing-eating people that we are.
Recipe below, and next post I will return you to your regularly scheduled cooked food.
Print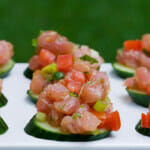 Tuna Tartare
---
Ingredients
8 ounces sushi-grade tuna, cut into 1.2 inch cubes
2 sliced scallions, white and green parts
I large tomato, chopped
1 tablespoon chopped fresh cilantro leaves
1 tablespoon grated, peeled fresh ginger
1 tablespoon soy sauce
1 tablespoon Asian sesame oil
1 seedless cucumber, sliced diagonally into 1/4 inch thick rounds
---
Instructions
Place the tuna, scallions, tomatoes, cilantro, ginger, soy sauce and sesame oil in a medium bowl and mix gently until well-blended.
Arrange the cucumber slices on a large serving tray and pile a generous tablespoon of the tuna mixture on each cucumber slice. Serve immediately.