Print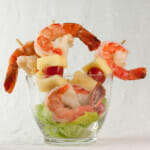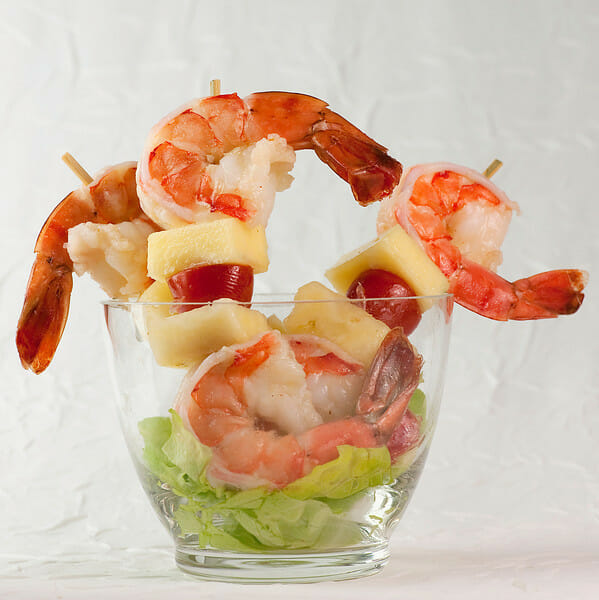 Shrimp and Pineapple Kebabs with Lime Viniagriette
---
Author:

Yield:

2
Ingredients
8 large shrimp, peeled and deveined
1 Tbsp fresh lime juice
2 tsp honey
1 tsp olive oil, extra-virgin
1 tsp apple cider vinegar
1 tsp grainy mustard
1 tablespoon chopped cilantro or parsley
1/8 tsp red pepper flakes
8 chunks fresh pineapple
4 medium cherry tomato(es), halved
1 1/2 cup(s) mixed baby greens
2 Tbsp red onion(s), finely chopped
---
Instructions
Bring a medium saucepan of water to a boil; add the shrimp. Reduce the heat and simmer until the shrimp are just opaque in the center, 3–4 minutes. Drain and rinse under cold running water to stop the cooking. Pat the shrimp dry with paper towels.
Stir together the lime juice, honey, oil, vinegar, mustard, cilantro, and crushed red pepper in a bowl until blended. Stir in the shrimp, pineapple, and tomatoes; gently toss to coat.
Alternately thread the shrimp, pineapple, and tomatoes on 4 (6-inch) wooden skewers; reserve any vinaigrette remaining in the bowl. Divide the greens between 2 glasses; place 2 kebabs in each glass. Sprinkle with the onion and drizzle with the reserved vinaigrette.