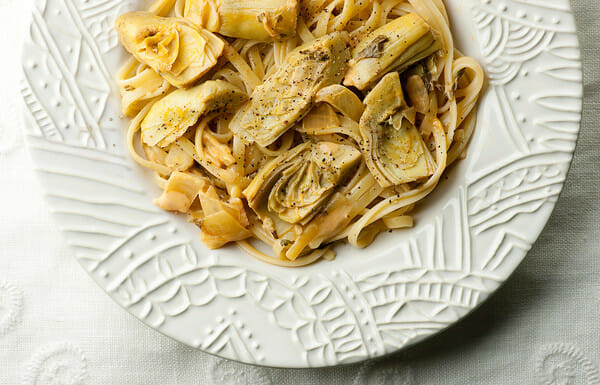 One pound linguine
1 tablespoon butter
2 tablespoons olive oil
1 onion, chopped
2 cloves garlic, minced
½ cup white wine
1 cup chicken broth
salt and pepper to taste
1 tablespoon fresh chopped basil, or one teaspoon dried
2 tablespoons chopped fresh parsley
2 tablespoons tomato paste
1 ten ounce package frozen quartered artichoke hearts, thawed
½ cup heavy cream
1. Heat butter and oil in skillet and add onions and garlic. Saute for 3 minutes.
2. Raise heat and add wine and broth. Stir until boiling, then stir in herbs and tomato paste. Simmer for 5 minutes.
3. Add artichoke hearts and simmer for 2-3 more minutes.
4. Meanwhile, cook pasta and drain. Return to pot.
5. Stir cream into the sauce, heat to almost boiling and then pour sauce over pasta and toss.
6. Grind fresh pepper over top and serve.
Recipe adapted from Simply Elegant Country Foods : Downhome Goes Uptown [3]