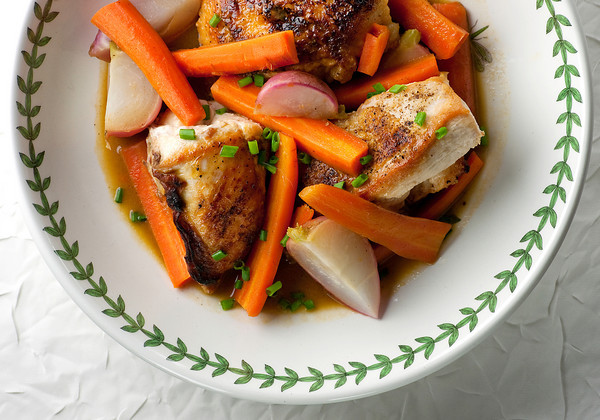 1 tablespoon olive oil
2½ pounds bone-in chicken breast pieces
kosher salt and black pepper
1 cup low-sodium chicken broth
12 medium radishes, halved
¾ pound carrots (about 4), cut into sticks
1 teaspoon sugar
2 tablespoons chopped fresh chives
Heat the oil in a Dutch oven over medium-high heat.
Season the chicken with ½ teaspoon salt and ¼ teaspoon pepper. Cook until browned, 6 to 7 minutes per side. Transfer to a plate.
Spoon off and discard the fat. Return the pot to medium-high heat. Add the broth and scrape up any brown bits.
Stir in the radishes, carrots, and sugar.
Place the chicken on top of the vegetables and gently simmer, partly covered, until it is cooked through, about 25 minutes. Sprinkle with the chives.