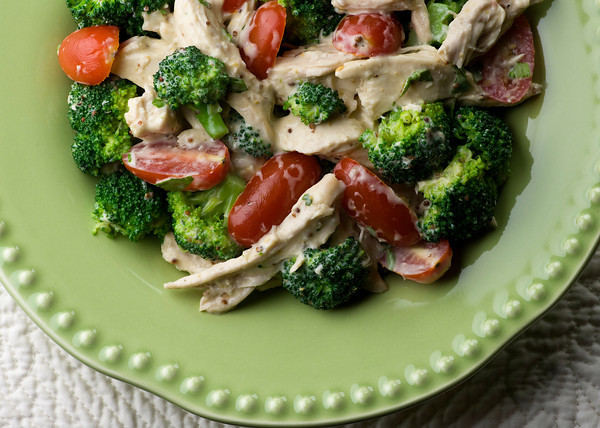 These days my house pretty much either looks like this, is about to look like this, or has just looked like this: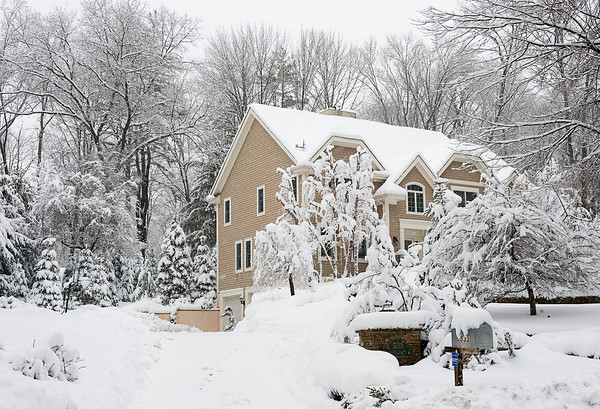 So you better believe that if I am going to have a SALAD for dinner, it is going to be a nice, hearty, substantial salad that gives me the strength I need to shovel the driveway again.
Okay, so I don't personally shovel the driveway.  Ever.  But you get my drift.This scrumptious chicken salad fits the bill perfectly, and in addition the recipe has forever convinced me that if you needed pieces of cooked chicken for something, you MUST roast it in the oven.  I used to be a poach it on the stovetop girl, and all these years I never realized that roasting it makes the cooked chicken taste one million percent better.  One million, not kidding.
Anyway, after you have roasted the chicken and gotten your fabulous-tasting cooked chicken, you quickly dunk some broccoli in some boiling water, just until it is cript-tender and a lovely bright green.  After that it is just a matter of mixing up the mustard dressing and tossing the whole thing together: the chicken, the broccoli, the dressing, some cherry tomatoes and a little tarragon.
Now THAT'S a salad that a person can eat in front of a fireplace.


Mustard Chicken Salad, from Barefoot Contessa How Easy Is That?: Fabulous Recipes & Easy Tips
Mustard Chicken Salad
Ingredients
4 bone-in chicken breast halves
Olive oil
Coarse salt and fresh ground pepper
5 cups small brocolli florets
1½ cups mayonnaise
½ cup Dijon mustard
¼ cup whole grain mustard
2 tablespoons white wine vinegar
2 tablespoons minced fresh tarragon
1 pint cherry tomatoes, halved
Instructions
Preheat oven to 350. Place chicken in a baking pan lined with foil and rub with olive oil. Sprinke liberally with salt and pepper and roast for 45 minutes. Cool, discard skin and tear chicken meat into bite-sized pieces.
Fill a large bowl with ice water and bring a large pot of water to a boil. Add broccoli to the boiling water and cook until crisp-tender, about one minute. Drain and place the brocolli in the bowl of ice water.
make the dressing by whisking the mayo, mustards, vinegar 1 tablespoon salt and 1½ teaspoons salt together. Add enough dressing to the chicken to moisten well. Add the tarragon, broccoli and tomatoes and mix gently to combine. If you have time, cover and let sit in fridge for a couple of hours so the flavors can develop even more. Serve at room temperature.