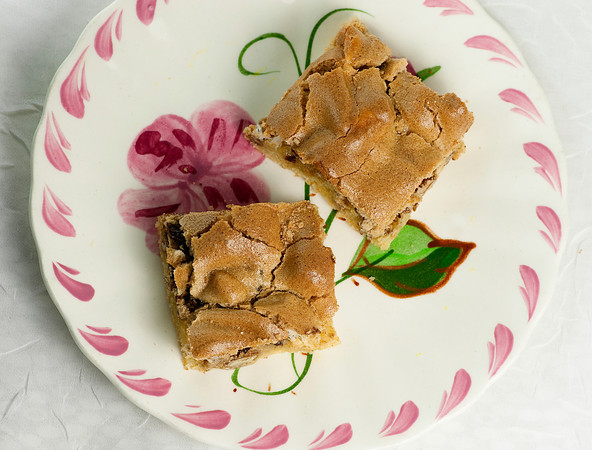 ¼ cup shortening
½ stick butter at room temperature
1 cup granulated sugar
1 whole egg
2 eggs, separated
1½ cups flour
1 teaspoon baking powder
¼ teaspoon salt
1 cup chopped nuts (I used pecans)
1 cup mini marshmallows
½ cup chocolate chips
1½ cup light brown sugar
1 egg white
1. Preheat oven to 350 and butter a 9x13 inch baking dish.2. Cream the shortening, butter and sugar in a large bowl. Beat in the whole egg and the two egg yolks.3. In a separate bowl, sift the flour, baking powder and salt together. Combine the creamed mixture ith the flour mixture, blending thoroughly. 4. Spread the batter into the baking pan. (If you are having trouble getting it to reach the edges of the pan, rinse your fingers in cold water and gently push the batter where you want it to go.)5. Sprinkle the nuts, chips and marshmallows over the top of the batter.6. Beat the 2 leftover egg whites plus the one extra egg white until stiff, fold in the brown sugar and spread over the top of the batter. Bake for 30-40 minutes until browned on top. Cook completely, then cut into bars.