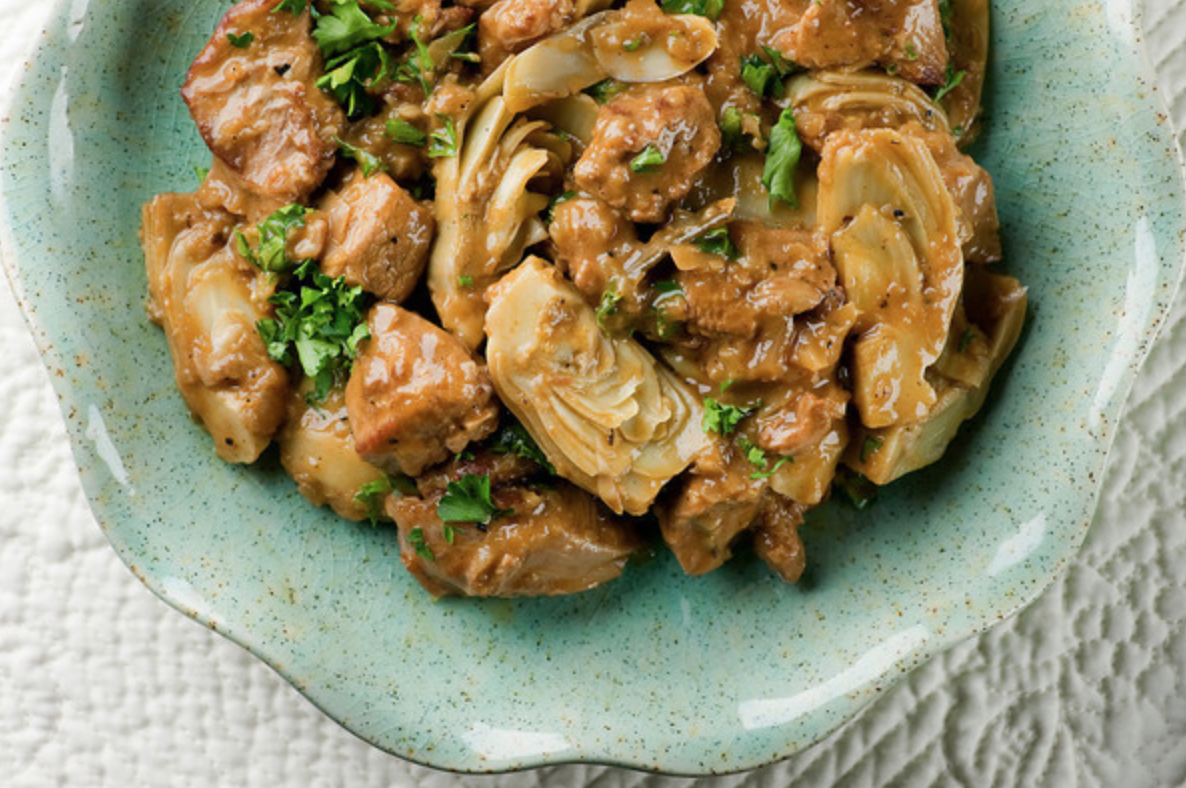 Olive oil
3 onions, chopped
3 cloves minced garlic
2½ pounds veal stew meat, cut in 1-2 inch cubes
3 tablespoons flour
1½ cups beef broth
1 cup white wine
3 tablespoons tomato paste
Juice of one lemon
1 bay leaf
1 teaspoon chopped fresh rosemary
Pinch thyme
Freshly ground black pepper
1 package frozen artichoke hearts, defrosted
Grated lemon peel from one lemon
½ cup chopped fresh parsley
Heat 2 tablespoons olive oil in large skillet. Saute onions and garlic until translucent, about 3 minutes. Transfer to 5 quart Dutch oven.
Add another 2 tablespoons olive oil to skillet and brown the veal over medium high heat, working in batches and adding more oil as needed. Add to Dutch oven.
Lower heat under skillet and add 2 more tablespoons oil and the flour, stirring to make a paste. Add broth, wine and lemon juice, and stir up brown bits from the bottom of the pan. Add bay leaf, spices and tomato paste. Simmer for 5 minutes.
Pour sauce over the veal in the Dutch oven. Cover and simmer for one hour. Uncover and simmer for another 50 minutes, stirring from time to time.
Add artichoke hearts and lemon peel and simmer 10 more minutes. Stir in parsley and serve.
{Please close floating ads before printing.}
---
Article printed from Framed Cooks: http://www.framedcooks.com