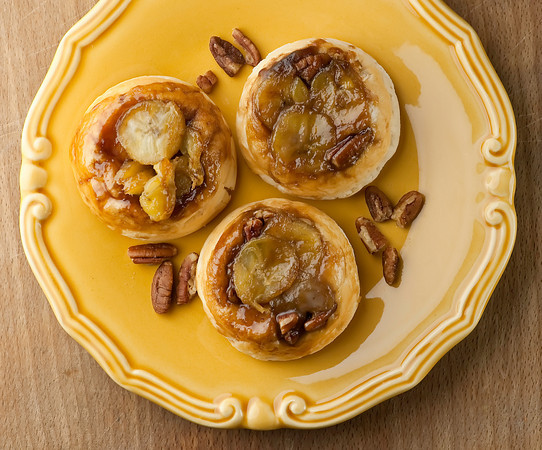 Ingredients
1 tube refrigerated buttermilk biscuits (tube of 10)
2 tablespoons butter, cut into 10 slices
1 banana, sliced thin
3 tablespoons brown sugar
1/2 cup chopped pecans or walnuts (optional)
Directions
1. Preheat oven to 375.
2. Drop one piece of butter into each muffin compartment. Put a few banana slices on top of the butter, then sprinkle with a little brown sugar and some nuts (if using). Place a biscuit on top of all and press down slightly.
3. Bake until golden, about 8-10 minutes. Remove from oven and immediately run a knife around the edge of each sticky bun, and then put a cookie sheet on top of the muffin tin. Flip the tin over and tap the bottom to release the buns. If any nuts or bananas are left in the tins, just scoop them out and place them on the top of the buns.
4. Serve warm (and these reheat well in the microwave if they aren't gobbled up right away.)