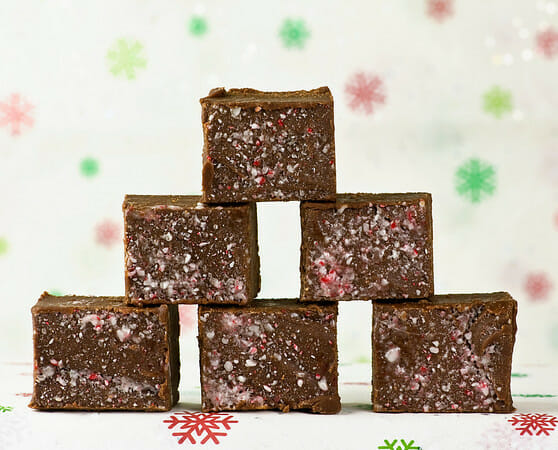 16 ounces semi-sweet chocolate chips (I use Ghiradhelli)
1 cup peppermint candy - canes or the round candies
¾ cups heavy cream
3⅓ cups mini-marshmallows
5 tablespoons unsalted butter
1¼ cup sugar
1 teaspoon coarse salt
1. Lightly coat a 9 inch square baking pan with cooking spray. Line with two pieces of parchment paper going in both directions, leaving about 2 inches of overhang on each side. Spray parchment with cooking spray.
2. Put chocolate chips in food processor and process until finely chopped. Transfer to large bowl.
3. Now put peppermint candies in food processor until finely chopped. Set aside about ⅛ cup for garnish. 4. In medium saucepan, combine chopped peppermint, cream, marshmallows, butter, sugar and salt over medium high heat. Stir until everything is melted and smooth, about 5 minutes.
5. Pour peppermint mixture through a strainer into the bowl with the chopped chocolate. Let stand for one minute and then stir until smooth. Pour into baking pan.
6. Sprinkle reserved chopped peppermint over top and refrigerate until set, about 3 hours. Using the parchment sides as handles, lift out of pan and cut into 1 inch squares.