Lemon Shrimp Scampi with Linguine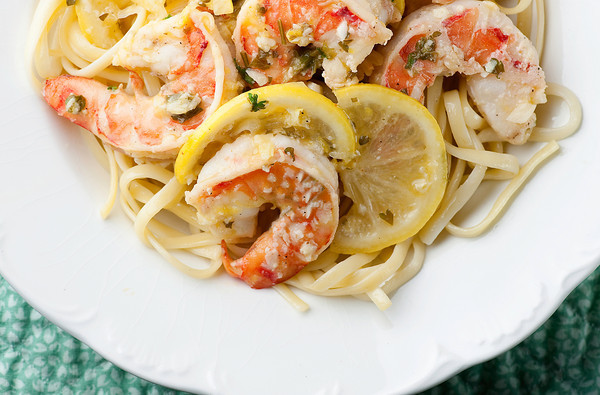 1½ pounds linguine
¾ stick butter
5 tablespoons olive oil
9 cloves garlic, minced
2 pounds large shrimp, peeled and deveined
½ teaspoon fresh ground pepper
¾ cup chopped fresh parsley
Grated zest of one lemon
Juice from 4 lemons (about ½ cup)
½ lemon, cut in half and thinly sliced
¼ teaspoon hot red pepper flakes
1. Cook linguine in salted water until done, drain and put back in the pot.
2. Meanwhile, melt butter and olive oil in large skillet over medium low heat. Add garlic and saute for one minute. Add shrimp, one teaspoon salt and ½ teaspoon black pepper, turn up heat to medium and saute until shrimp are pink, about 5 minutes. Stir often, turning the shrimp over to make sure they are cooked through.
3. Turn heat back down to low and add lemon juice, zest and slices, and red pepper. Stir for about a minute to combine and heat up the sauce.
4. Pour sauce with shrimp into pot with drained pasta, toss well and serve.
{Please close floating ads before printing.}
---
Article printed from Framed Cooks: http://www.framedcooks.com