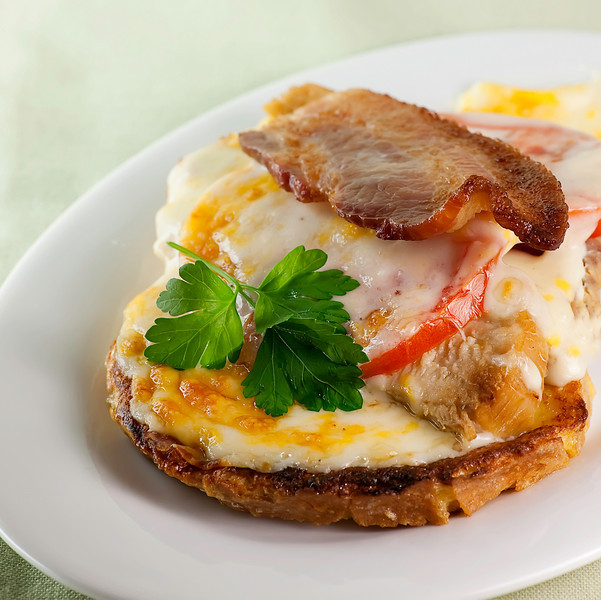 I think this MAY be the most delicious thing I have ever made, eaten, seen, smelled or otherwise come in any contact with over the course of my entire life.  This, my friends, is called a Kentucky Hot Brown, and my only regret is that I have gotten to the ripe old age of…well, never mind…and this is the first time I have eaten one.  I have a lot of catching up to do.
Here's how this all happened.   Back around Thanksgiving, I found a recipe in the New York Times for a very unusual way of cooking turkey.  I finally got around to making it, and let's just say that it involved a lot of Saran Wrap, a meat thermometer and a steam bath for the turkey,  and the stress of it all took about five years off my life.  But it resulted in some outstanding tasting turkey.  Because of the stress part I am not going to do one of my usual blog posts about it, but if you want to live life on the edge, turkey-wise, you can find the recipe by clicking here. The rest of you can either make your turkey the normal way, or even get some from your friendly neighborhood deli counter – just make sure they slice it thick, about 1/4 inch or so.
Anyhow, as is usually the case with any turkey-cooking, I ended up with a whole lot of leftovers, and I dimly remembered that I had heard of something called a Hot Brown that called for sliced cooked turkey.  Googling ensued.  Soon I found the original recipe for it, which dates back to a dish from the 1920's at the Brown Hotel in Kentucky.  This recipe called for a QUART of heavy cream, and that was enough to stop even me in my tracks.  So I moved on to Bobby Flay's version of it, which is not slenderizing by any means, but at least uses milk instead of the cream.
To cut to the chase, what you are putting together here is this: a piece of french toast that is topped with sliced turkey, sliced tomato and a succulent cheddar cheese sauce.  You run the whole thing under the broiler, lay a couple slices of bacon on top, sprinkle with some chopped parsley, and there you have it.  A Kentucky Hot Brown.
Do not let one more second go by without having this yourself.  It's worth roasting a turkey just to have leftovers to make this baby.  Kentucky Hot Brown…you heard it here first!

Print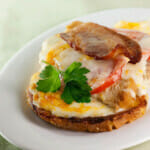 Kentucky Hot Brown!
---
Ingredients
For the sauce:
2 tablespoons unsalted butter
2 tablespoons all-purpose flour
2 1/2 cups whole milk
2 cups grated sharp white Cheddar
1/4 cup grated Parmesan
Pinch freshly ground nutmeg
Salt and freshly ground black pepper
For the egg bread:
4 large eggs
1/4 cup milk
Salt
8 (1/2-inch) thick slices good day old white bread
4 tablespoons butter
4 tablespoons vegetable oil
For assembly:
Roasted turkey breast, sliced into 1/4-inch thick slices
3 ripe beefsteak tomatoes, cut into 1/2-inch thick slices and griddled until slightly charred and just cooked through
1 1/2 cups grated sharp white Cheddar
1/2 cup freshly grated Parmesan
16 thick slices slab bacon, cooked until crisp
Finely chopped fresh flat-leaf parsley
---
Instructions
For the sauce:
Melt butter over medium heat in a medium saucepan. Whisk in the flour and cook for 1 minute. Whisk in the milk, bring to a boil and cook, whisking constantly, until thickened and the flour has cooked out, about 4 to 5 minutes. Whisk in cheese and cook until the cheese has melted. Season with nutmeg and salt and pepper, to taste.
For the egg bread:
Whisk together the eggs, milk and salt in a medium bowl. Dip each slice of bread in the mixture and let sit about 30 seconds, or until completely soaked through. Heat 2 tablespoons of butter and 2 tablespoons of oil in a large nonstick saute pan over medium-high heat. Cook 4 slices of the bread at a time until golden brown on both sides. Remove and place on a baking sheet. Repeat with the remaining bread.
For assembly:
Preheat broiler. Place the egg bread on a baking sheet. Top each slice of bread with 2 to 3 slices of turkey and 2 slices of tomato, ladle sauce over the top and divide the cheddar cheese and Parmesan over the top of each slice. Place under the broiler and cook until bubbly and the top is golden brown. Remove from the oven, top each slice with 1-2 slices of bacon and sprinkle each slice with parsley.
Adapted from Bobby Flay's recipe