The Best, Easiest, Quickest Chicken Noodle Soup Ever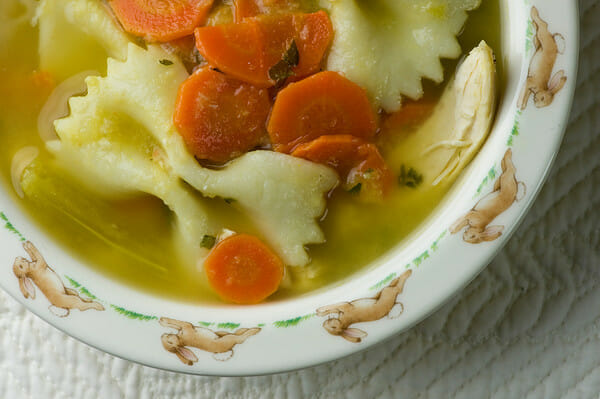 1 split bone-in chicken breast
Olive oil
Salt and pepper
Two 32 ounce boxes of chicken broth
Two large carrots, sliced
Two stalks celery, sliced
One leek, sliced or one onion, chopped
1 cup bow tie pasta
½ cup fresh chopped parsley
1 tablespoon chopped fresh thyme
Salt and pepper to taste
1. Preheat oven to 375. Place chicken skin side up on baking sheet lined with foil. Rub olive oil onto chicken and sprinkle with salt and pepper. Roast for 50 minutes and then cool until chicken is cool enough to shred with your fingers. Discard bones and skin.
2. Heat broth until simmering. Add carrots, celery, leek or onion and pasta and cook until pasta is done, about 10 minutes.
3. Stir in parsley, thyme and chicken and season to taste. Ladle into bowls and serve.