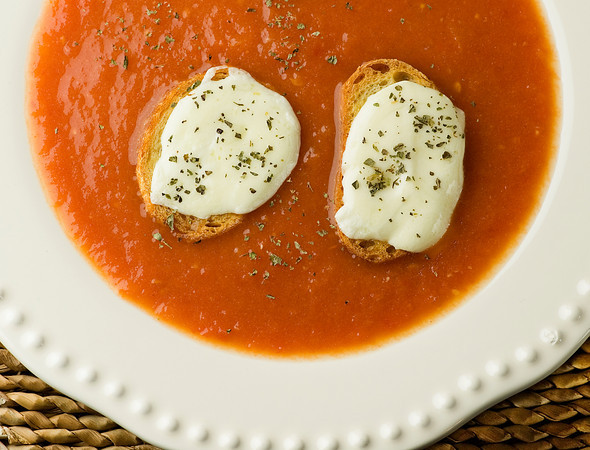 So, the main objective of this soup was to recreate all the fabulous tastes of a pizza, in soup form.  The crust, the cheese, the scrumptious tomato sauce, all in good-for-you soup form.  And you know what?   While I am not going to look you straight in the eye (electronically-speaking) and say this is the same as digging into a nice hot cheesy slice of pizza, it's actually pretty fabulous at being soup trying really hard to be pizza.
The soup base is a super-easy mixture of canned tomatoes (side note: please, please, please use the San Marzano variety if you possibly can) that you whiz up in your food processor.  You toss some red pepper flakes, some garlic and some onion into a skillet with some hot olive oil, saute for a few minutes and then add in your tomatoes and some chicken stock (side note: please, please, please use the Imagine or Pacific variety if you possibly can.  Simmer for about 30 minutes, then puree in your blender.  I love my immersion blender for this sort of thing – it's easy and fun, so long as you turn it off before you lift it out of the soup.  Otherwise you end up flinging tomato soup the entire length and breadth of your kitchen.  I won't tell you how I know this, but I do.
OK, on to the croutons, which are just thin slices of French bread that you have drizzled with olive oil and lightly toasted.  Top them with some slice mozzarella and stick them back into the oven until the cheese just starts to melt, about a minute or so.  Now float them on the top of your soup and sprinkle with whatever you like to sprinkle with.  Fresh ground pepper, grated parmesan, dried oregano, chopped fresh basil.  Good luck finding THAT at this time of the year unless you are one of my friends living on the other side of the equator.  I did just get an AeroGarden to grow winter herbs in, but I just got it about 2 weeks ago and the cute little baby herbs are only about an inch tall at the moment.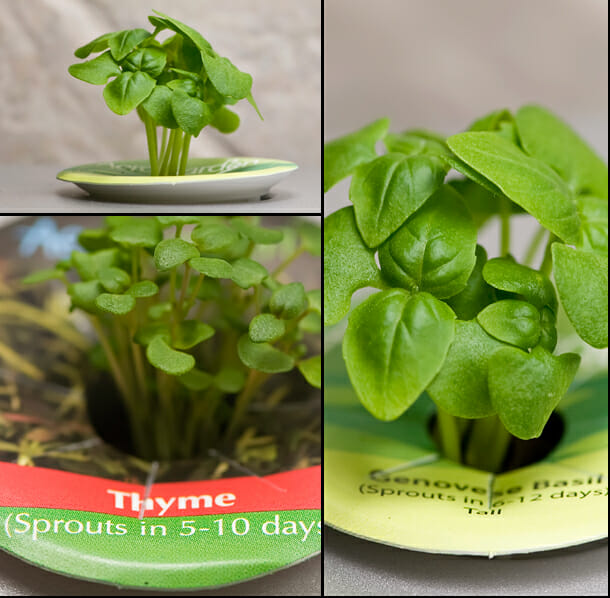 Anyway…pizza soup!  Yum and yum and yum again…
Tomato Soup with Mozzarella Croutons, adapted from Whole Living 
Print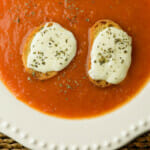 Tomato Soup with Mozzarella Croutons
---
Ingredients
One 28 ounce can peeled plum tomatoes, pureed with their juice in food processor
2 tablespoons olive oil
1/2 teaspoon red pepper flakes
2 cloves garlic, minced
1 cup diced onion
1 1/2 cups chicken stock
Coarse salt and fresh ground pepper
16 french bread slices
Olive oil
8 ounces slices fresh mozzarella
Assorted toppings (oregano, parmesan, basil, etc.)
---
Instructions
Soup
Heat 2 tablespoons olive oil in saucepan over medium heat. Add red pepper, garlic and onion and cook, stirring, about 6 minutes or until onions are tender. Add tomatoes and stock and bring to a boil, then reduce heat to a simmer and cook for 30 minutes, stirring occasionally. Puree in blender until smooth and season with salt and pepper.
Croutons
Brush bread with olive oil and cook in 375 oven until golden, about 5 minutes. Top with cheese and return to oven until cheese just starts to melt, another minute or two.
Float croutons on soup (or serve on the side if you are very, very neat and tidy) and garnish with your choice of toppings.