Smoked Salmon Cream Cheese Soup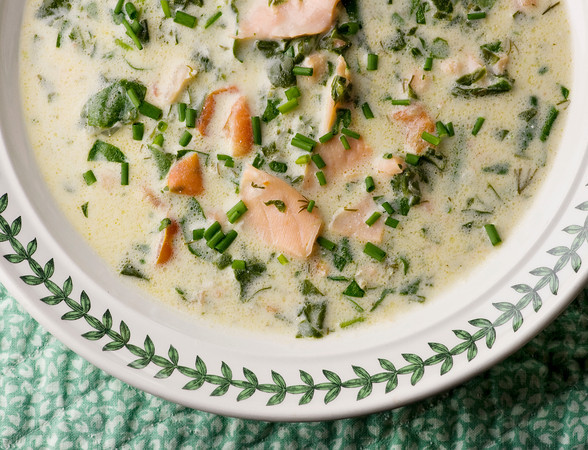 ¾ stick butter
1½ cup chopped onion
¾ cup chopped fresh dill
2 ripe tomatoes, seeded and chopped
8 ounces smoked salmon, cut into 1 inch pieces
2 tablespoons flour
8 cups water
fresh ground pepper, to taste
2 cups fresh spinach, washed and chopped
2 eight ounce packages cream cheese, sliced into 8 pieces each
⅓ cup vodka
2 tablespoons fresh lemon juice
Snipped fresh chives, for garnish
1. Melt butter in medium size saucepan over medium heat. Add onion and saute until soft, about 10 minutes.
2. Stir in dill, tomatoes and salmon and cook 3 minutes. Add flour and cook 1 minute more. Gradually stir in water and heat to boiling. Reduce heat and simmer for 20 minutes.
3. Season with pepper, stir in spinach and simmer 5 more minutes. Now stir in cream cheese, one piece at a time, allowing each piece to melt into the soup. When all the cheese is added and the soup is smooth, stir in the vodka and lemon juice. Taste for seasonings, and ladle into bowls. Garnish with chives and serve.
{Please close floating ads before printing.}
---
Article printed from Framed Cooks: http://www.framedcooks.com