Roasted Shrimp with Feta: Guest Blogger Aileen Morgan!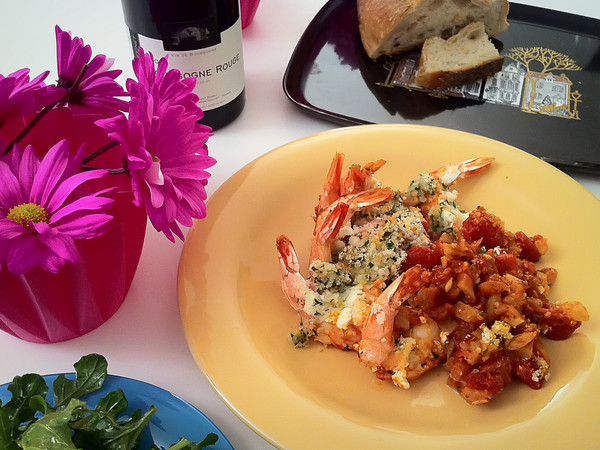 4 tbs good olive oil, divided
1½ cups medium diced fennel
1 tbs minced garlic (3 cloves)
¼ cup dry white wine
1 (14.5 oz) can diced tomatoes
2 tsp tomato paste
1 tsp dried oregano
1 tbs Pernod (optional)
1 tsp Kosher salt
½ tsp freshly ground pepper
1 lb (16-20) peeled and cleaned shrimp, tails on
5 oz good Feta cheese, coarsely crumbled
1 cup fresh bread crumbs
3 tbs minced fresh parsley
1 tsp grated lemon zest
2 lemons
1. Preheat the oven to 400 degrees.
2. Heat 2 tbs of the olive oil in a 10 or 12 inch heavy, oven-proof skillet over medium-low heat. Add the fennel and saute for 8-10 minutes, until the fennel is tender. Add the garlic and cook for 1 minute more. Add the wine and bring it to a boil, scraping up any browned bits. Cook for 2 - 3 minutes, until the liquid is reduced by half. Add the tomatoes with the liquid, tomato paste, oregano, Pernod (if you have it), salt, and pepper to the skillet. Simmer over medium-low heat, stirring occasionally, for 10 - 15 minutes.
3. Arrange the shrimp, tails up, in one layer over the tomato mixture in the skillet. Scatter the feta evenly over the shrimp. In a small bowl, combine the bread crumbs, parsley, and lemon zest with the remaining 2 tbs olive oil and sprinkle over the shrimp.
4. Bake for 15 minutes, until the shrimp are cooked and the breadcrumbs are golden brown. Squeeze the juice of 1 lemon over the shrimp and serve hot with the remaining lemon cut into wedges.
{Please close floating ads before printing.}
---
Article printed from Framed Cooks: http://www.framedcooks.com