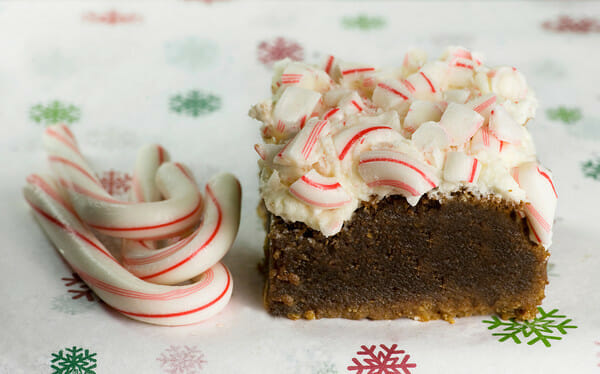 Here's one that was inspired by my friends at the Fat Witch Bakery, who despite their name have you covered through all the holidays, not just Halloween.  I have made their S'mores Brownies about one million times (I am an honorary member of the teenager's posse purely on the basis of making them S'Mores Brownies over and over and over again.  Not that they let me actually hang out with them or anything, but they love me from afar.)
Anyway, here's the next one that I tried from the Fat Witch Brownies cookbook, and to be completely honest, I followed the directions for the brownie part to the letter, but then ran totally amuck on the topping.  Fat Witch called for the topping to be made with a mixture of white chocolate and confectioner's sugar and chopped peppermint, and I just…couldn't…do it.  It just seemed like a little too much chocolate to me (I know!  What is wrong with me???) so I went for a more traditional vanilla buttercream frosting, which came together in a jiff, and I did use the chopped peppermint.  Obviously.  It's still puh-lenty sweet, but the consistency is just a little bit lighter than the white chocolate would have been.  I hope the Fat Witch will still love me, and no hexes will be coming my way.
By the way, since it is the holiday season and I am feeling very generous and like I need to give credit where credit is due, I would like to go on record as saying that these little candy canes that I used for this recipe?  They were individually wrapped (AAAARRRGGGHHH!) and my dashing Southern husband unwrapped them all for me so I didn't lose my mind.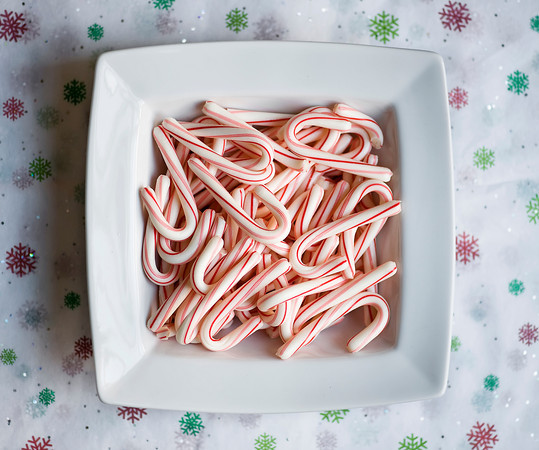 That is what you call true love and devotion.  Peppermint Brownies…make them for someone YOU truly love this Christmas.
Peppermint Brownies
Ingredients
1¾ sticks unsalted butter
½ cup bittersweet chocolate chips
3 large eggs
1 cup sugar
½ teaspoon peppermint extract
½ teaspoon vanilla extract
½ cup unbleached flour
Pinch of salt
½ cup white chocolate chips
⅓ cup butter
¼ teaspoon salt
1 teaspoon vanilla extract
1 pound (3½ cups) sifted confectioners sugar (powdered sugar)
3 to 4 tablespoons milk or light cream, or to make smooth and spreadable
½ cup chopped candy canes
Instructions
Line 9x9 inch baking pan with foil and spray with Pam. Preheat oven to 350.
Melt the butter and the bittersweet chocolate together in a small saucepan over low heat, stirring frequently. Remove from heat and set aside to cool.
Beat together eggs, sugar and both extracts until smooth. Add cooled chocolate mixture and mix until well blended.
Sift flour and salt together directly into the batter and stir until well-combined. Stir in white chocolate. Spread into pan and bake until toothpick inserted in center comes out clean or with crumbs, not batter. Cool on rack until completely cool.
Cream butter, salt, and vanilla, beating with an electric mixer until light and fluffy. Add the confectioners' sugar gradually, beating after each addition. Add 3 tablespoons milk or light cream, beating until smooth. Beat in more milk until desired spreading consistency is reached and the frosting is spreadable.
Spread over cooled brownies and sprinkle chopped candy canes on top. Using sides of foil, lift brownies out of pan and on to cutting surface. Cut into small pieces.
Recipe adapted with love from Fat Witch Bakery