Pappardelle with Zucchini, Roasted Tomatoes and Fresh Rosemary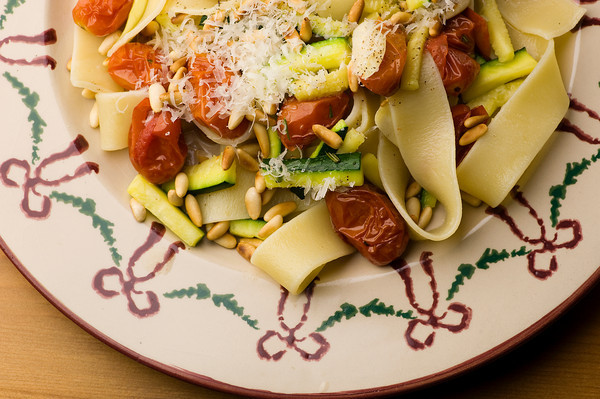 ¼ cup pine nuts
1 pint grape or cherry tomatoes
3 tablespoons olive oil
Coarse salt
16 ounces papparedelle
1 garlic clove, thinly sliced
2 medium zucchini, cut into matchsticks (about 2 inches by ¼ inch)
leaves from two fresh rosemary sprigs, chopped
Freshly grated parmesan
1. Lightly toast pine nuts in a small dry skillet over medium heat until golden brown. Transfer to small bowl and set aside.
2. Preheat oven to 425. Toss tomatoes with 1 tablespoon of oil and a generous pinch of salt. Place on a large rimmed baking sheet lined with parchment or nonstick foil and roast for 20 minutes.
3. Cook pasta in a large pot of salted water according to package directions, reserve ½ cup pasta water and drain.
4. Meanwhile, heat remaining oil in large skillet over medium high heat. Add garlic and zucchini and cook for 3 minutes, stirring now and then. Stir in rosemary and cook for 2 minutes more. Add drained pasta and tomatoes and toss, adding a little pasta water to make a light sauce. Sprinkle with pine nuts and cheese and serve at once.
{Please close floating ads before printing.}
---
Article printed from Framed Cooks: http://www.framedcooks.com