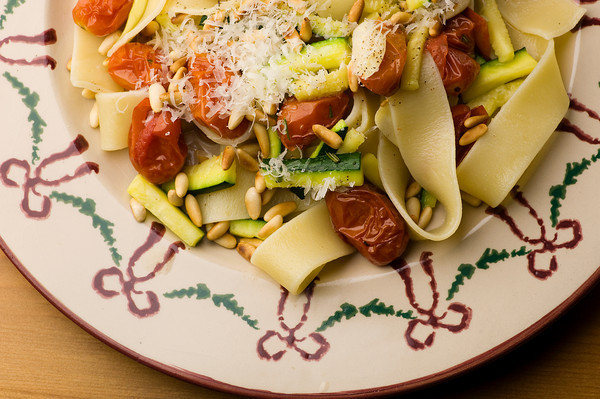 don'tyou just love it when it is time to take the Christmas plates out?
2. don'tyou just love it when your dinner actually MATCHES the Christmas plates?
I know, but these are the little things in life that keep a smile on my face, and so I am going with the flow here. This great recipe is another one from THE NEW BROOKLYN COOKBOOK, and is easy enough that you actually don't mind whipping it up in the midst of the wrapping and the shopping and the fa-la-la-la-la. don'tbe tempted to use anything other than pappardale in this recipe – it's that gorgeous wide pasta that you see in the picture, and it is the perfect pasta for this dish. I found it without any problem in my local market, right there on the pasta aisle, but if you have any problem you can order it from that same place you are getting all your holiday gifts…here's the link:

Pappardelle Pasta
Anyway, this is a fast and scrumptious dish that will remind you a little of that old standard, pasta primavera, but in this case the veggies are limited to cherry tomatoes that are roasted with a little olive oil and coarse salt, and zucchini that is cut into matchstick size pieces and quickly sauteed. A few toasted pine nuts, some parmesan cheese and you are in business – a red and green pasta dish that would be just perfect for an elegant dinner on, say, Christmas Eve?
Yum and yum and ho ho ho.
Pappardelle with Zucchini, Roasted Tomatoes and Fresh Rosemary, adapted from THE NEW BROOKLYN COOKBOOK
Print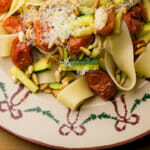 Pappardelle with Zucchini, Roasted Tomatoes and Fresh Rosemary
---
Ingredients
1/4 cup pine nuts
1 pint grape or cherry tomatoes
3 tablespoons olive oil
Coarse salt
16 ounces papparedelle
1 garlic clove, thinly sliced
2 medium zucchini, cut into matchsticks (about 2 inches by 1/4 inch)
leaves from two fresh rosemary sprigs, chopped
Freshly grated parmesan
---
Instructions
Lightly toast pine nuts in a small dry skillet over medium heat until golden brown. Transfer to small bowl and set aside.
Preheat oven to 42Toss tomatoes with 1 tablespoon of oil and a generous pinch of salt. Place on a large rimmed baking sheet lined with parchment or nonstick foil and roast for 20 minutes.
Cook pasta in a large pot of salted water according to package directions, reserve 1/2 cup pasta water and drain.
Meanwhile, heat remaining oil in large skillet over medium high heat. Add garlic and zucchini and cook for 3 minutes, stirring now and then. Stir in rosemary and cook for 2 minutes more. Add drained pasta and tomatoes and toss, adding a little pasta water to make a light sauce. Sprinkle with pine nuts and cheese and serve at once.