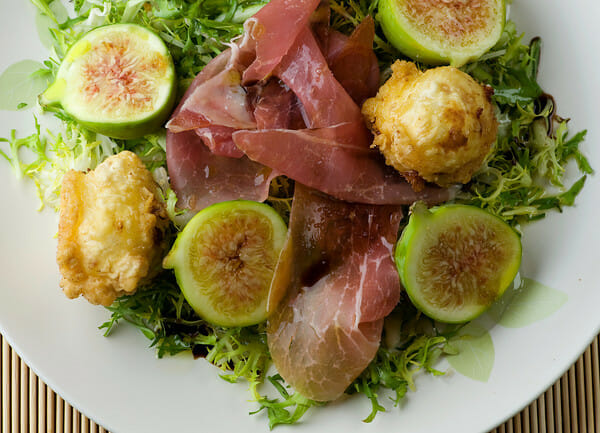 1 head frisee lettuce, washed and chopped
1 eleven ounce log goat cheese
Canola oil
2 large eggs, lightly beaten
½ cup flour
6 fresh figs, cut in half
4 thin slices prosciutto
Honey
Balsamic vinegar
Olive oil
¼ teaspoon crushed red pepper flakes
Sea salt
1. Roll the goat cheese into half-dollar sized balls and place on parchment-lined sheet. Put in freezer for 20-30 minutes.
2. Heat about 4 inches of oil in large deep pot until hot, about 350 degrees on a deep fry thermometer.
3. Place the eggs and flour in two separate bowls. Dip the goat cheese balls in egg, then flour, then egg again, then flour. Using a metal slotted spoon, carefully lower the cheese balls into the hot oil and cook until golden, about 3 minutes. Using the slotted spoon, gently remove and drain on paper towels.
4. Assemble the salad as follows: place a handful of frisee on each of four plates. Arrange figs, goat cheese and one slice of prosciutto on each plate. Drizzle with honey, a little balsamic vinegar and a little olive oil, sprinkle with red pepper and salt and serve.
Recipe adapted from the New Brooklyn Cookbook [3]