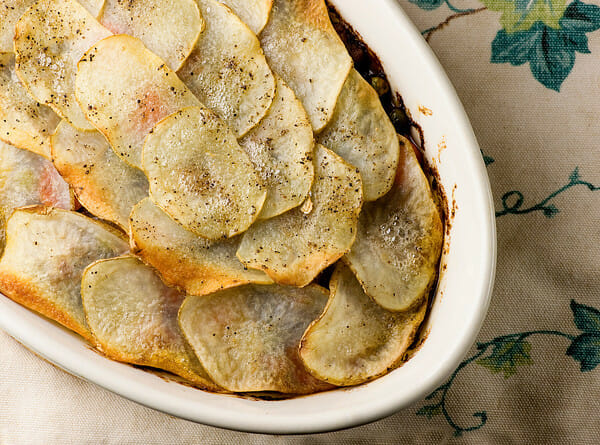 3 tablespoons melted butter
1 large yellow onion, chopped
3 large carrots, cut into ¾ inch pieces
Coarse salt and fresh ground pepper
2 tablespoons tomato paste
1 pound ground beef
2 teaspoons fresh thyme
1 cup dark beer
2 tablespoons flour
1 cup frozen peas
1 large russet potato, sliced very thin
Preheat oven to 400. In large skillet, heat one tablespoon butter over medium high heat. Add onions and carrots and cook for 5 minutes, stirring often. Season with salt and pepper and add tomato paste.
Add meat and cook for 3 minutes, breaking up with wooden spoon. Add thyme and beer and bring to a boil. Cook, stirring frequently, until slightly reduced, about 3 minutes. Sprinkle flour over top and stir. Add 1 cup of water and cook until slightly thickened, another two minutes. Stir in peas and then season to taste.
Transfer to baking dish and top with overlapping potato slices. Drizzle with melted butter and sprinkle lightly with salt and pepper. Bake until potatoes are browned at the edges, about 40-45 minutes. Cool ten minutes before serving.
{Please close floating ads before printing.}
---
Article printed from Framed Cooks: http://www.framedcooks.com