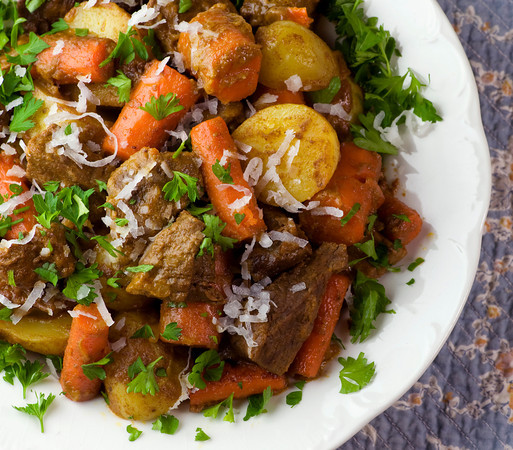 Ingredients
1 tablespoon olive oil
2 onions, chopped
2 garlic cloves, chopped
2 tablespoons paprika
2 tablespoons cumin
1 tablespoons cinnamon
1 teaspoon salt
4 tablespoons tomato paste
1 14oz can coconut milk
2 pounds beef chuck steak, cut into cubes
4 large Yukon gold potatoes, cut into chunks
2 cups carrots, cut into 1-2 inch pieces
1 cup flaked coconut
1/2 cup chopped parsley
Directions
1. Heat oven to 350. Put oil in Dutch oven or other ovenproof pot over medium heat. Cook onions for 5 minutes or until soft. Add garlic and spices and stir for one minute. Stir in tomato paste and then coconut milk. Bring to a boil and add beef.
2. Cover and transfer to oven, Cook for 1 hour, then remove from oven and add potatoes and carrots. Cover and cook for an additional hour and 15 minutes.
3. Sprinkle each serving with flaked coconut and parsley and serve.
{Please close floating ads before printing.}
---
Article printed from Framed Cooks: http://www.framedcooks.com