Pumpkin Cranberry Granola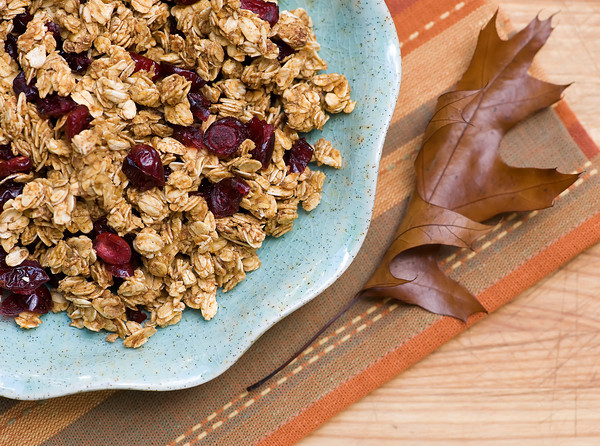 5 cups rolled oats
1 teaspoon pumpkin pie spice
1 teaspoon cinnamon
¼ teaspoon nutmeg
¾ teaspoon salt
¾ cup brown sugar
½ cup pumpkin puree
¼ cup applesauce
¼ cup maple syrup
1 teaspoon vanilla extract
1 cup dried cranberries
Optional: additional nuts, pepitas, raisins - whatever else feels good to you!
Heat over to 350. Line a large baking sheet with parchment paper.
Stir oatmeal, spices and salt together in a large bowl.
Whisk together brown sugar, pumpkin, applesauce, maple syrup and vanilla extract until smooth. Pour into oat mixture and mix until oats are coated. Spread the mixture onto baking sheet.
Bake for 20 minutes, remove from oven and stir. Bake for an additional 20-30 minutes or until golden and crisp. Remove from oven and stir in cranberries and any other mix-ins. Let cool completely. Store in airtight container.
{Please close floating ads before printing.}
---
Article printed from Framed Cooks: http://www.framedcooks.com