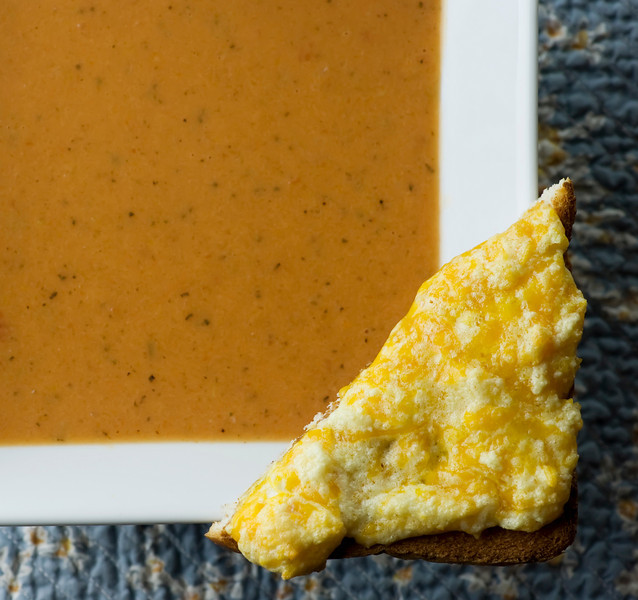 2½ tablespoons butter
1 small onion, chopped
1 celery rib, chopped
1½ teaspoons dried basil
¼ teaspoon ground cloves
2 tablespoons flour
1 15 ounce cans diced tomatoes
¼ teasponn baking soda
2½ cups chicken stock
1½ cups milk
Salt and pepper
2 tablespoons tomato paste
1 egg, separated
1 teaspoon Dijon mustard
Pinch cayenne pepper
1 cup grated cheddar
4 slices bread, lightly toasted
1. Melt butter in a large saucepan over medium heat. Add onion and celery and cook until onion is limp, about 3-5 minutes. Stir in flour, then add basil, cloves, tomatoes, baking soda and stock. Bring to a boil, lower the heat, and simmer partially covered for 20 minutes. Cool briefly and then puree in a blender until smooth (or if you have an immersion blender use that, it's even easier!)
2. Preheat oven to 400. Return soup to the pot and add milk and tomato paste and season with salt and pepper.
3. Combine the egg yolk with mustard and cayenne, then stir in the cheese. Whip the egg white until if forms soft peaks and then fold it into the cheese mixture. Spread cheese over the tasted bread and bake until puffed and a little golden, 5-10 minutes, while you reheat the soup.
4. Serve the soup with a piece of cheese toast, cut in half diagonally, with fresh ground pepper.