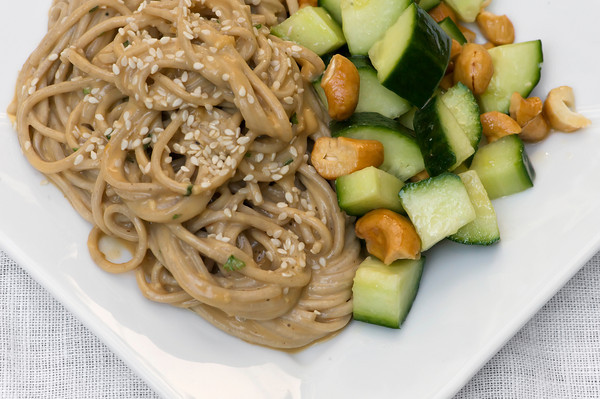 3 minced garlic cloves
3 tablespoons minced fresh ginger
4 scallions, thinly sliced
½ cup peanut butter
¼ cup tahini
2 teaspoons chili paste
¼ cup soy sauce
¼ cup minced cilantro
1 eight ounce package soba noodles (or linguine)
Sesame seeds for garnish1 seedless cucumber, chopped
3/5 cup coarsely chopped cashews
2 tablespoons sesame oil
2 tablespoons rice or white wine vinegar
Fresh ground pepper
1. Bring large pot of lightly salted water to a boil.
2. In a large bowl, mix garlic, ginger and scallions. Mix in peanut butter and tahini. Add chili paste and soy sauce and stir well. Add ½ cup hot water from the pot and stir into sauce. Add cilantro.
3. Make salad by mixing cucumber, cashews, sesame oil and vinegar in a separate small bowl. Set aside.
4. Add noodles to boiling water and cook until just tender. Drain and run under cold water until cool. Drain again and toss with sauce until well-coated. Sprinkle with sesame seeds. Serve with cucumber salad on the side.