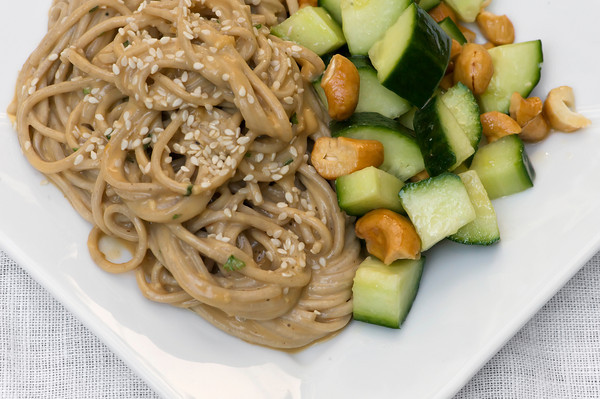 I can't remember the first time I discovered soba noodles, but once I did I kinda felt like I had won the food lottery. Soba noodles are made of buckwheat, and addition to being really, really tasty, they are actually pretty good for you, as far as pasta goes. And when you pair them with a scrumptious sauce and nestle a delicious cucumber cashew salad next to them…well, it's a good day when you can say you are having a super-delicious dinner and being virtuously healthy all at the same time. Right?This quick cold noodle salad is another one from my week-long celebration of one of my new favorite cookbooks, STONEWALL KITCHEN FAVORITES, and if you haven't yet entered the giveaway for a signed copy of this fantastic book, click here. In the meantime, here's the scoop on this salad. The sauce is a speedy combo of garlic, ginger, scallions, tahini, chili paste, soy sauce and my personal favorite kitchen ingredient, peanut butter. You thin it down a little with some hot water from the cooking pasta, toss in some cilantro if you are a cilantro person, and that's it. The salad is a simple combo of chopped cucumber and cashews tossed with sesame oil and white vinegar with a little ground pepper.
All these exotic ingredients can usually be found in any decent supermarket. If you absolutely can't find soba noodles anywhere (and I promise you that Amazon will have them!), you can sub in linguine. You just won't get to feel as completely virtuous. All of this wonderfulness is fabulous on its own, and also the perfect accompaniment to grilled steak or chicken or fish.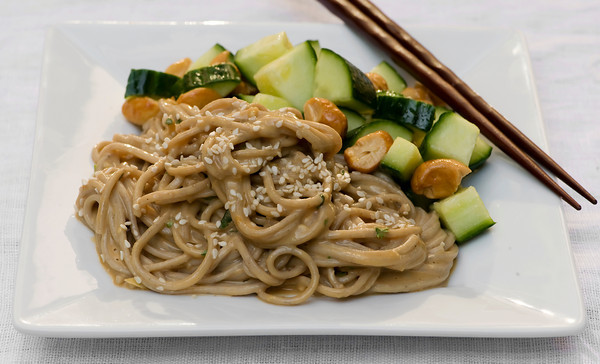 Here's the delish recipe, and don't forget to enter the giveaway!
Sesame Noodles with Cucumber Cashew Salad, from Stonewall Kitchen Favorites 
Sesame Noodles with Cucumber Cashew Salad
Ingredients
3 minced garlic cloves
3 tablespoons minced fresh ginger
4 scallions, thinly sliced
½ cup peanut butter
¼ cup tahini
2 teaspoons chili paste
¼ cup soy sauce
¼ cup minced cilantro
1 eight ounce package soba noodles (or linguine)
Sesame seeds for garnish1 seedless cucumber, chopped
3/5 cup coarsely chopped cashews
2 tablespoons sesame oil
2 tablespoons rice or white wine vinegar
Fresh ground pepper
Instructions
Bring large pot of lightly salted water to a boil.
In a large bowl, mix garlic, ginger and scallions. Mix in peanut butter and tahini. Add chili paste and soy sauce and stir well. Add ½ cup hot water from the pot and stir into sauce. Add cilantro.
Make salad by mixing cucumber, cashews, sesame oil and vinegar in a separate small bowl. Set aside.
Add noodles to boiling water and cook until just tender. Drain and run under cold water until cool. Drain again and toss with sauce until well-coated. Sprinkle with sesame seeds. Serve with cucumber salad on the side.