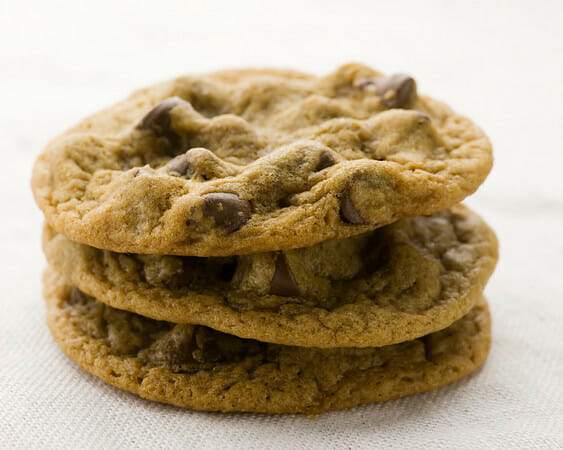 2 sticks unsalted butter
2 cups plus 2 Tablespoons bread flour
1 teaspoon kosher salt
1 teaspoon baking soda
1½ cups granulated sugar
¼ cup plus 1 teaspoon dark molasses, not blackstrap
1 egg
1 egg yolk
1½ teaspoons vanilla extract
1 cup chocolate chips or chunks
sea salt for sprinkling on top of cookies just before baking
Heat oven to 350 degrees F.
Melt the butter in a heavy-bottom medium saucepan over low heat. Sift together the flour, salt, and baking soda and set aside.
In a medium sized bowl, mix the granulated sugar and molasses until no large molasses clumps remain.
Pour the melted butter in the mixer's work bowl. Add the homemade brown sugar. Cream the butter and sugar on medium speed for about 3 minutes. Add the egg, yolk, and vanilla extract and mix until well combined. Slowly incorporate the flour mixture until thoroughly combined. Stir in the chocolate chips.
Chill the dough for about 20 minutes, then scoop onto parchment-lined baking sheets. Lightly sprinkle each dough ball with a few flecks of sea salt.
Bake for 8 to 10 minutes or until golden brown. Cool completely and store in an airtight container.
 Recipe adapted slightly from Joy The Baker [3], who adapted it from Alton Brown.