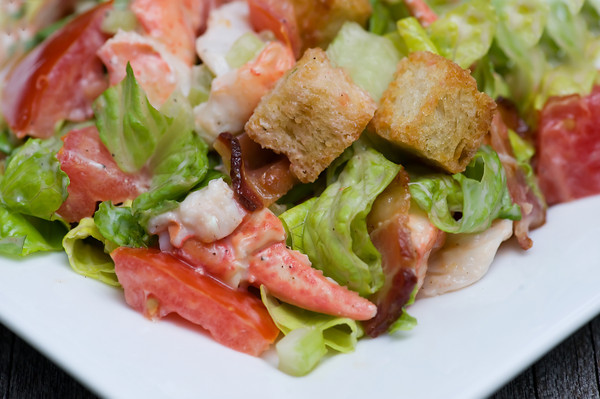 If I ever had to make the agonizing decision between lobster and bacon, I'm not sure what I would do.  They are two of my favorite taste sensations in the entire world, and so when I read about the Lobster BLT Salad that is on the menu at the Stonewall Kitchen Cafe, I just had to take a whack at it.  Someday I am going to make it up there to Maine to try the real thing, but for now I had to be satisfied with doing my own imitation of it.  The menu description went like this:
Cafe Lobster BLT Salad – Local lobster meat, tossed lightly with mayonnaise & chopped celery served on a bed of chopped baby iceberg lettuce. Topped with crumbled cherrywood-smoked bacon, slices of vine-ripened tomatoes and housemade croutons. 
So I sent the Southern husband off to the store to pick us up a couple of steamed lobsters (because I am a complete sissy when it comes to cooking my own lobsters.  I'm sorry, but it's true.).  I had some nice farmer's market tomatoes, and of course you know I had bacon in the house already.  I used romaine instead of iceberg, although I'm sure iceberg would be perfectly fine.  A leftover hunk of French bread turned into some lovely croutons.  The restaurant menu says that their BLT salad is served with the dressing of your choice — I found that the lobster salad provided enough "dressing" taste for the salad, but go for addition dressing if you like.  I'm sure the original is even better, but for a New Jersey version, this was pretty dang good.
Meantime, thank you to EVERYONE who commented on the giveaway post for STONEWALL KITCHEN FAVORITES, the amazing cookbook from my friends at Stonewall.  What a great group of suggestions for summer favorites!  My menu for next summer is now completely figured out!  As usual I went to Random.org to pick out the winner, since I can't bear to choose on my own, and the lucky winner of the signed-by-the-authors cookbook is Holly, who commented that marinated flank steak is one of her favorites.  YUM, me too!
Here's the recipe, and onward to fall…
Lobster BLT Salad, inspired by the Stonewall Kitchen Cafe
Print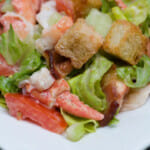 Lobster BLT Salad…and the Stonewall Kitchen Cookbook Winner!
---
Ingredients
Two lobsters, cooked, shelled and torn into pieces
1/4 cup mayonnaise
2 ribs of celery, chopped
freshly ground pepper to taste
One head romaine lettuce, torn into bite sized pieces
4 slices of bacon, cooked and crumbled
2 large tomatoes, sliced into bite-sized pieces
1 cup large croutons
---
Instructions
Mix lobster, mayo, celery and pepper together.
Place lobster mixture in large bowl with all other ingredients and toss gently until well mixed.
Add your choice of dressing (if desired – we didn't use any) and toss again. Serve at once.