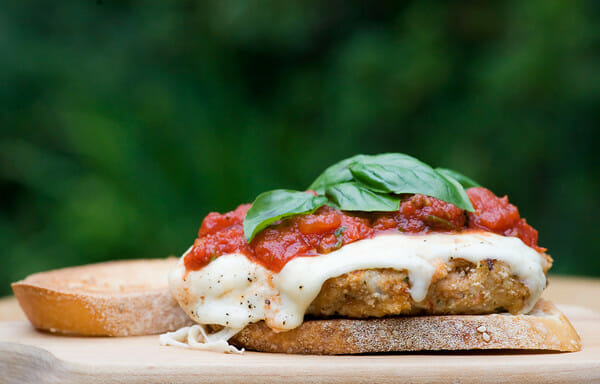 10½-inch-thick slices French bread (4 inches in diameter); 8 slices toasted, 2 slices (crust removed) diced
½ cup finely grated Parmesan cheese
4 tablespoons minced fresh basil, divided, plus 12 large basil leaves
¾ cup marinara sauce
12 ounces ground chicken (white meat)
2 tablespoons extra-virgin olive oil, divided
1 tablespoon grated onion
¼ teaspoon salt
4 ounces whole-milk mozzarella cheese, thinly sliced
Blend diced bread and Parmesan in processor to fine crumbs. Transfer to pie dish; mix in 2 tablespoons minced basil.
Mix marinara and 2 tablespoons basil in small saucepan. Transfer 1½ tablespoons sauce to large bowl. Add chicken, ½ tablespoon oil, onion, and ¼ teaspoon salt. Sprinkle with pepper; blend. Shape into four ½-inch-thick patties; coat with crumbs. Heat sauce over low heat.
Heat 1½ tablespoons oil in large nonstick skillet over medium heat. Cook patties until bottoms are crusty, 4 minutes. Turn patties over; top with cheese. Cook 3 minutes. Cover; cook until cooked through and cheese is melted, about 1 minute.
Place each burger on a slice of toasted bread. Ladle some sauce on top and cover with basil leaves. Top with another slice of bread and serve immediately. With lots of napkins!
Recipe from Bon Appetit [3]