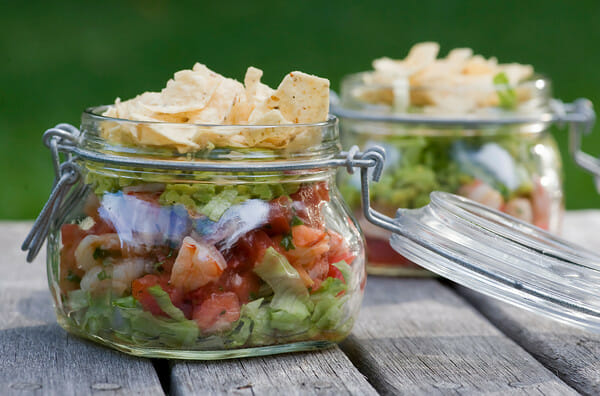 Okay,
Ingredients
2 medium tomatoes, chopped
1/4 cup chopped white onion
1/4 cup finely chopped cilantro or parsley
1 to 2 teaspoons chopped fresh jalapeno
2 tablespoons ketchup
2 to 3 tablespoons fresh lime juice, divided
1 pound peeled cooked shrimp, cut into 1/2-inch pieces
2 firm-ripe avocados
2 cups shredded lettuce (I used iceberg)
1/2 cup coarsely crumbled tortilla chips
Directions
1. Stir together tomatoes, onion, parsley, chile, ketchup, 1 tablespoon lime juice, and 1/2 teaspoon salt.2. Stir in shrimp and season with salt and pepper.
3. Mash avocados with remaining 1 to 2 tablespoons lime juice and 1/2 teaspoon salt.
4. Divide lettuce among jars and layer shrimp mixture, avocado, and crumbled chips on top.
Shrimp in a Jar, adapted from Epicurious [2]