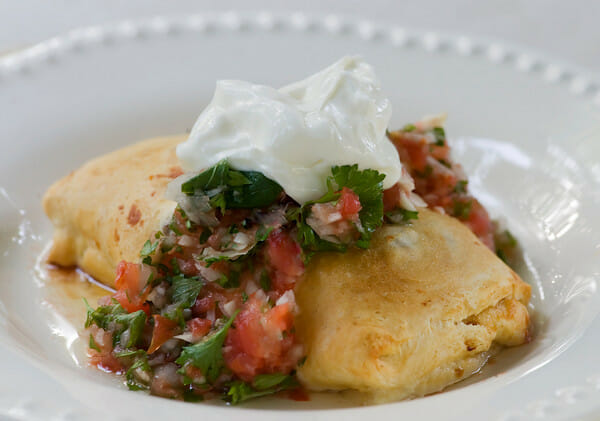 All you lovers of completely authentic Mexican food, I apologize and please close your eyes and cover your ears.  Because this recipe, which is quick and easy and tasty, involves one of my favorite cooking ingredients, and that is a tube of crescent roll dough.  I'm sorry, but it's true, and I'm not ashamed to admit it.  Crescent roll dough in a tube, you ROCK.
Here's the deal.  You make whatever kind of taco filling you like.  Since I was already down the road with the crescent roll dough, I opted to stay with the theme and make good old taco meat with ground beef, chopped onion and a packet of Old El Paso taco seasoning.  You can add in some refried beans as well if you want.  Personally, I am not a refried beans lover, but you should do your own thing.
Next you separate the crescent roll dough into rectangles, pushing on the perforations to seal them.  Ladle s few spoonfuls of beef onto each rectangle, a little salsa and a little shredded cheese.  Roll them up, pinch the edges to seal them, and pop them in the oven for about 20 minutes.  From there on in, you can get as creative as you want.  I made a sort of homemade salsa with chopped tomato, onion, lime juice, parsley and jalapeno and ladled it on the top with some sour cream.  You can drape some cheese over the top and pop it back in the oven for a few minutes until the cheese melts.  Throw some guacamole on the plate…whatever catches your fancy.  The world is your burrito.
That's what you get when we Irish girls start cooking Mexican food — mass chaos.  But it did taste good!
Print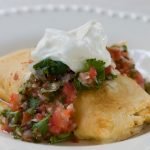 Crescent Roll Burritos
---
Ingredients
Crescent Roll Burritos, adapted from a Pillsbury recipe (of course!)
1/2 pound ground beef
2 tablespoons chopped onion
2 tablespoons taco seasoning
1/2 cup water
1/2 cup refried beans (optional)
2 cans crescent dinner rolls
1/2 cup salsa plus more for garnish
1/2 cup shredded cheddar or jack cheese
Sour cream, guacamole or any other garnish you like!
---
Instructions
Preheat oven to 350. Spray cookie sheet with cooking spray.
Cook ground beef and onion in skillet until thoroughly cooked, drain. Stir in taco seasoning and water and cook over medium for about 5 minutes. Stir in beans if using.
Separate dough into eight rectangles and press perforations to seal. Divide beef mixture over rectangles and top with a tablespoon of salsa and a tablespoon or so of cheese. Starting with the short end of the dough, roll up each rectangle and pinch the edges to seal. Place seam side down on cookie sheet.
Bake for 20 minutes or until golden brown. Serve with more salsa, guacamole, sour cream or whatever catches your fancy.