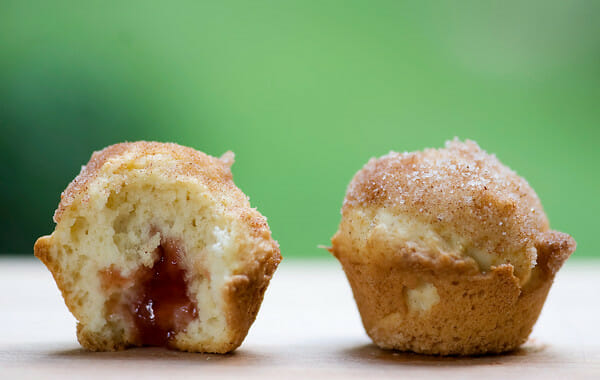 I'd like to introduce to you my new best friends, which are these adorable little doughnuts. I mean muffins. I mean doughnuts. They are a little bit of both…the basic batter that goes into making those old-fashioned cake doughnuts, but instead of dropping the dough into a vat of boiling oil, you bake them. Which practically makes them health food, in my book. And to make things even more fun, you make them in mini-muffin pans, so they are about one inch high, thereby giving you license to pop at least three or four into your mouth in rapid succession. If you are me, anyway.
Now, a word about that little jelly guy up there. These are perfectly fine as plain old regular baby doughnut muffins, especially because the end of the recipe calls for dunking the tops of the donuts in melted butter and rolling them in cinnamon sugar. (Heart beating faster!!!) But if you want to get really fancy, you can add a little jelly to the picture.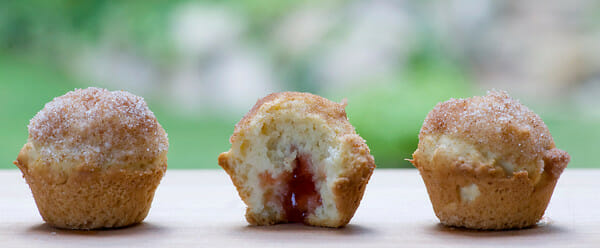 You won't be able to add too much jelly, because these doughnuts do have a pretty firm cake-like texture, but you can get a nice little taste in there.  All you need to do is put a few teaspoons of jelly in a pastry bag, put on the smallest pastry tip, push it into the bottom of the doughnut and give it it a good squeeze.  Instant baby jelly doughnut.  And before you get all worried about the pastry bag part, you can get a nice little inexpensive set at Michaels (click here to see.)
The only problem with this recipe is the fact that you will NOT be able to stop eating these babies once they come out of the oven.  They are only fresh for a day or so,  but even that is not an issue, because pretty soon I am going to put up a post on how I made my leftover doughnuts (yes, there were actually leftovers!) into a jelly doughnut bread pudding.  So, stay tuned to this channel!


Print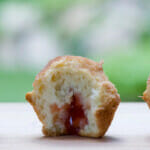 Baby Doughnut Muffins
---
Ingredients
Coating:
1/2 cup granulated sugar
2 1/2 teaspoons ground cinnamon
Muffins:
8 tablespoons unsalted butter 1 stick, melted
3 cups all-purpose flour, plus more for coating the tin
2 1/2 teaspoons baking powder
3/4 teaspoon fine salt
1/2 teaspoon freshly ground nutmeg
1/4 teaspoon baking soda
3/4 cup whole milk, at room temperature
2 tablespoons buttermilk, at room temperature
10 tablespoons unsalted butter 1 1/4 sticks, at room temperature
3/4 cup plus 2 tablespoons granulated sugar
2 large eggs, at room temperature
---
Instructions
Combine sugar and cinnamon in a small bowl; set aside.
Heat the oven to 375°F and arrange a rack in the middle. Lightly brush a 24-well mini muffin tin
with some of the melted butter, then coat with flour, tapping out any excess; set aside. Reserve
remaining melted butter for applying the cinnamon-sugar coating.
In a large bowl, sift together flour, baking powder, salt, nutmeg, and baking soda. In a small
bowl, whisk together milk and buttermilk. Set both aside.
Beat butter and sugar on medium-high speed until light in color and fluffy, about 3 minutes. Beat in eggs one at a time until combined. Stop the mixer and scrape down the sides of the bowl with a rubber spatula.
With the mixer set on low speed, beat in a quarter of the reserved dry ingredients. Then beat in a
third of the reserved milk mixture. Continue to alternate until all of the remaining ingredients
are incorporated, finishing with the dry ingredients. Do not overmix.
Fill the prepared muffin tin wells to just below the rim with batter. Bake until muffins are lightly
golden and firm to the touch, about 15 to 20 minutes. Let cool in the pan for 5 minutes. Remove muffins from the tin and transfer to a wire rack set over a baking sheet. Repeat buttering and
flouring of the muffin tin and bake the remaining batter.
To coat the muffins, brush each generously with melted butter and sprinkle generously with
cinnamon-sugar. Serve warm or at room temperature.
For jelly doughnuts, allow the muffins to cool and use a small pastry tip tomake a hole in the bottom of each. Fill the pastry bag with your favorite jam, jelly, or citrus
curd and squeeze some into the muffins.