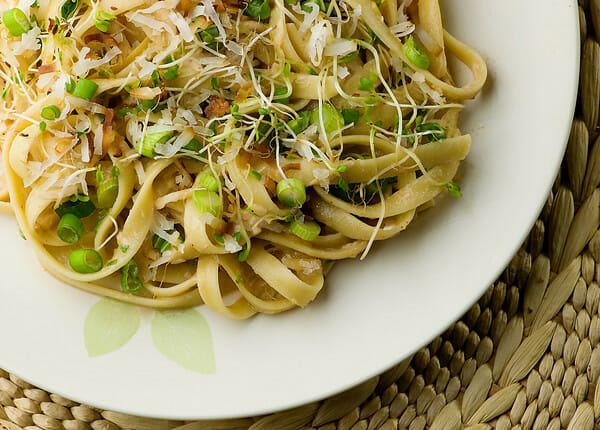 8 ounces fettuccine
1 13.5-ounce can unsweetened coconut milk
3 tablespoons tomato paste
1 teaspoon chili powder
1 teaspoon kosher salt
1 tablespoon chili paste or sauce (optional)
3 scallions, thinly sliced
8 ounces bean sprouts
16 basil leaves, whole or torn
¼ cup shredded coconut, toasted
Cook the pasta according to the package directions.
Meanwhile, in a large saucepan, over medium heat, combine the coconut milk, tomato paste, chili powder, salt, and chili paste or sauce (if using). Bring to a boil. Reduce heat and simmer for 2 to 3 minutes.
Stir in the drained noodles and toss. Divide the noodles among individual bowls. Top with the scallions, sprouts, basil, and coconut.
{Please close floating ads before printing.}
---
Article printed from Framed Cooks: http://www.framedcooks.com