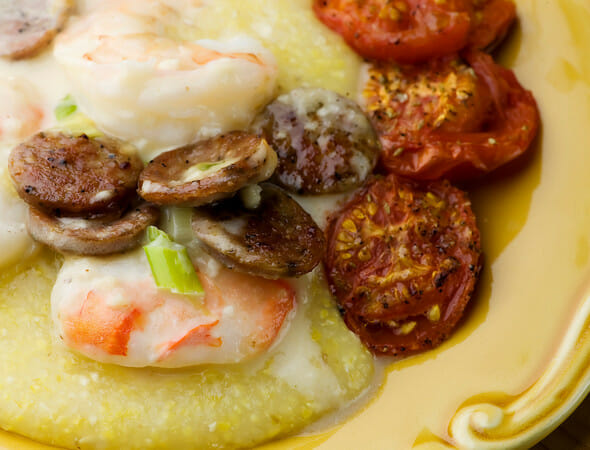 Okay, so I've been very good and patient — I haven't posted yet another recipe for shrimp and grits in ages and ages. Well, not since May, when I put up the post on shrimp and grits with artichoke hearts. But I can't help it. I'm married to a Southern man, and with those vows come love, cherish and enthusiastically eat shrimp and grits for as long as we both shall live. And I do love all of 'em — the shrimp, the grits and the Southern husband, so I'm always on the look-out for new variations, and this is a great one.
The grits you cook up the way you always do. I like this variety, which you can order online, but if the only thing available is the Quaker quick-cooking grits — well, that's better than no grits at all. (And for those of you grits-doubters out there, feel free to subsitute the word "polenta" for "grits" throughout this post. It's all ground corn, and it's all good.)
This recipe is all about the topping, which is a glorious mixture of shrimp, spicy sliced andouille sausage, and a garlicky cream sauce. It all gets cooked up together and spooned over the grits and oh, my my. Broil up some of the cherry tomatoes that are springing up all around us to toss on the side, and you have a quick and luxurious supper that would make my Southern husband proud.
Recipe adapted from Everyday Food
Print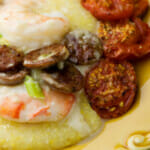 Shrimp and Andouille Sausage with Grits
---
Ingredients
Coarse salt and ground pepper
1 cup grits
2 teaspoons vegetable oil
1/2 pound andouille sausage, sliced into 1/4-inch rounds
2 garlic cloves, minced
2 scallions, white and green parts separated and thinly sliced
4 teaspoons all-purpose flour
1 1/4 cups low-sodium chicken broth
1/4 cup heavy cream
1 pound medium shrimp, peeled and deveined
1 cup cherry tomatoes, cut in half
Olive oil and salt and pepper
---
Instructions
Cook grits according to package directions.
Place tomatoes, cut side up, on a rimmed baking sheet. Drizzle with olive oil; season with salt and pepper. Broil until lightly charred, 8 minutes, rotating sheet halfway through.
Meanwhile, in a large skillet, heat oil over medium-high. Add andouille and cook until golden, 3 to 5 minutes. With a slotted spoon, transfer andouille to a plate and reduce heat to medium.
Add garlic and scallion whites to skillet and cook until fragrant, about 30 seconds. Stir in flour. Whisk in broth and cream. Cook, stirring and scraping up browned bits from skillet, until thickened, about 3 minutes.
Add shrimp and andouille and cook, stirring constantly, until shrimp are opaque throughout, about 5 minutes.
To serve, top grits with shrimp mixture and sprinkle with scallion greens. Serve with tomatoes.