Chilled Avocado Cucumber Soup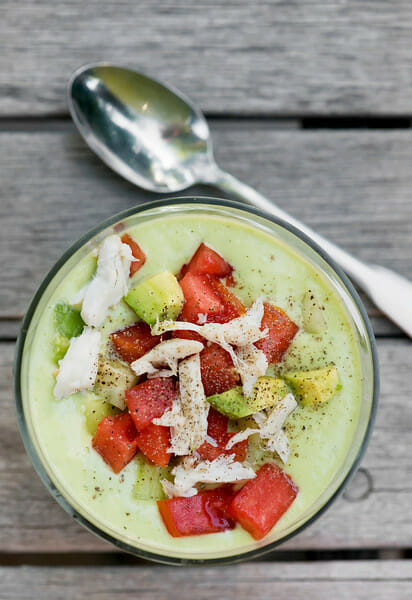 1 English cucumber, peeled and cut into ¼-inch cubes (about 2 cups)
2 avocados, pitted and peeled
½ cup low-fat plain yogurt
3 tablespoons fresh lime juice
1 minced small jalapeno chile (seeds and ribs removed for less heat, if desired)
⅓ cup sliced scallions
1 tablespoon cilantr0 (optional)
Coarse salt and ground pepper
6 ounces cooked shrimp or crabmeat
1 chopped tomato
1. In a blender, combine half the cucumber and 1 avocado with the yogurt, lime juice, jalapeno, scallions, 1 tablespoon cilantro, 1 cup ice water, 1½ teaspoons salt, and ¼ teaspoon pepper. Puree until completely smooth. Transfer to a large bowl.
2. Cut remaining avocado into ¼-inch cubes. Stir avocado and remaining cucumber into soup. Thin with ½ to 1 cup ice water, as desired. Season again with salt and pepper. Chill, about hour.
3. Ladle soup into bowls; garnish with shrimp or crabmeat and tomato.
{Please close floating ads before printing.}
---
Article printed from Framed Cooks: http://www.framedcooks.com