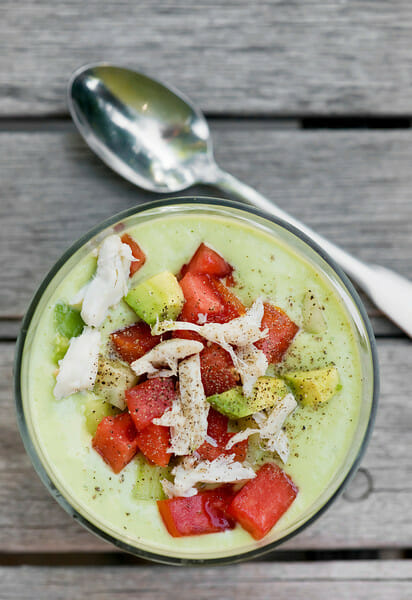 I've had this recipe for about one million years, and I both love and make it so much that the Southern husband gets that beef barley soup look in his eyes when I pull out the recipe, which is an interesting combo of "I like that soup!" and "wow, is she really making that AGAIN?" But I can't help it…this soup is cool and refreshing and delicious and only involves one kitchen appliance and that is the blender. Highly satisfying in so very many ways.
So here's the scoop. Pull out that blender and toss in the following: some cucumber (get the English kind if you can. They are usually shrinkwrapped in plastic next to the cucumbers with the regular old American accent. Why? No idea. But they have less seeds and if you can get 'em, they're great.) Then some avocado, some yogurt, a little lime juice, some minced jalapeno, some salt and pepper and a little ice water. Press that puree button, baby.And that puree sound is the MOST satisfying thing, can I just say? In about one minute it will be a lovely, thick chilled soup.
Now all you have to do is thin it down with a little more ice water until it is nice and soup-like, and stir in some chopped avocado and cuke for substance and crunch. Garnish with some tomato, some fresh ground pepper and…the best part…some chopped crabmeat or shrimp. Dinner in about 10 minutes, and so delicious and healthy, too! Happy sigh.
Print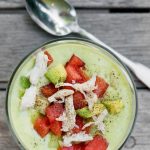 Chilled Avocado Cucumber Soup
---
Ingredients
1 English cucumber, peeled and cut into 1/4-inch cubes (about 2 cups)
2 avocados, pitted and peeled
1/2 cup low-fat plain yogurt
3 tablespoons fresh lime juice
1 minced small jalapeno chile (seeds and ribs removed for less heat, if desired)
1/3 cup sliced scallions
1 tablespoon cilantr0 (optional)
Coarse salt and ground pepper
6 ounces cooked shrimp or crabmeat
1 chopped tomato
---
Instructions
In a blender, combine half the cucumber and 1 avocado with the yogurt, lime juice, jalapeno, scallions, 1 tablespoon cilantro, 1 cup ice water, 1 1/2 teaspoons salt, and 1/4 teaspoon pepper. Puree until completely smooth. Transfer to a large bowl.
Cut remaining avocado into 1/4-inch cubes. Stir avocado and remaining cucumber into soup. Thin with 1/2 to 1 cup ice water, as desired. Season again with salt and pepper. Chill, about hour.
Ladle soup into bowls; garnish with shrimp or crabmeat and tomato.