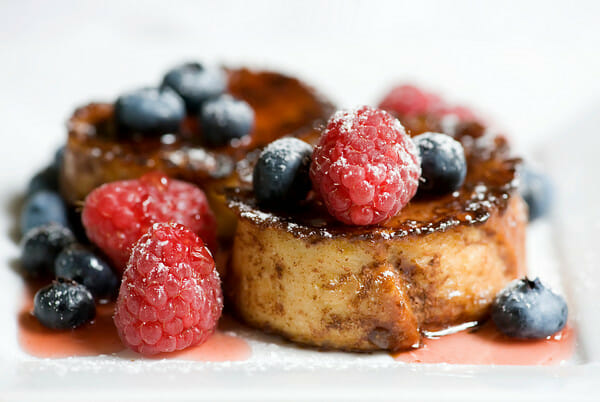 7 tablespoons unsalted butter, room temperature
6 tablespoons (packed) golden brown sugar
1½ cups whole milk
3 large eggs
1 tablespoon vanilla extract
1½ teaspoons ground cinnamon
½ teaspoon ground nutmeg
8 1-inch-thick slices French bread
Powdered sugar
Fresh blueberries and raspberries
Your choice of syrup
Mix butter and brown sugar in small bowl to blend.
Whisk milk, eggs, vanilla, and spices in large bowl to blend, and soak the bread slices in the milk mixture until they are good and soaked, at least 5 minutes. 10 is even better.
Melt 4 tablespoons brown sugar-butter mixture in large nonstick skillet or griddle over medium-high heat. (If you can't fit them all in one skillet then only use 2 tablespoons butter mixture and save some of the next batch.) Spread remaining butter mixture over bread. Add bread slices to each skillet, butter side UP. Cook until bottoms are deep brown, 3 to 4 minutes. Turn slices over. Cook until bottoms are deep brown, 3 to 4 minutes.
Divide French toast among 4 plates. Sift powdered sugar over. Top with blueberries and raspberries; drizzle with syrup.
{Please close floating ads before printing.}
---
Article printed from Framed Cooks: http://www.framedcooks.com