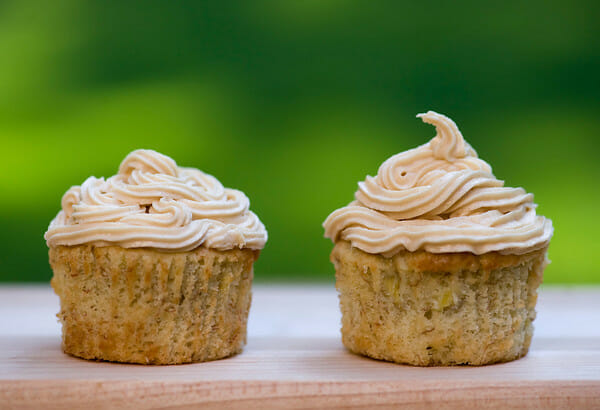 I do love baking with bananas. But somehow, I always seem to fall into a banana-baking rut by making the same old thing over and over. Banana bread, right? You see those, um, aging bananas on your counter and your mind goes blank except for the banana bread. Now, a few weeks ago I broke out of my banana rut and made these cute little banana bites, and I was just overwhelmed by all the banana love that came my way from all you banana-fans out there.
And so I was inspired, and I have been collecting banana recipes ever since. On my to-make list over the coming weeks are: Layered chocolate banana parfaits. Bisquick banana muffins. I even have a recipe on deck for Extreme Banana Bread, made with SIX bananas. Crazy, right? But in the midst of all this banana-rama I found a recipe for banana cupcakes with whipped peanut butter frosting. The cupcakes are like a light, airy banana bread, and the frosting….peanut butter heaven.
One last little observation — that frosting job that I did on the cupcakes involved a pastry bag and one of those little star-shaped decorating tips, which all sounds very fancy and complicated, but it's as easy as easy can be. But feel free to slather that frosting on there however you want. It's going to taste AWESOME no matter what it looks like.
It's a banana summer!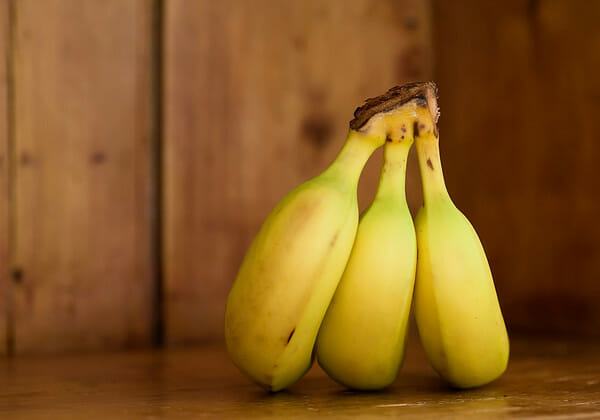 Banana Cupcakes with Peanut Butter Frosting

, from Bon Appetit 
Print

Banana Cupcakes with Peanut Butter Frosting

---

Ingredients

1 1/4 cups all purpose flour
1 1/2 teaspoons baking powder
1/2 teaspoon baking soda
1/4 teaspoon salt
2 very ripe large bananas, peeled
1/2 cup sour cream
1 1/2 teaspoons vanilla extract
3/4 cup sugar
1/2 cup (1 stick) unsalted butter, room temperature
1 large egg
1 large egg yolk
1 1/2 cups powdered sugar
1 8-ounce package cream cheese, room temperature
1/2 cup (1 stick) unsalted butter, room temperature
1/2 cup smooth peanut butter (do not use old-fashioned or freshly ground)
Chopped lightly salted roasted peanuts (optional)

---

Instructions

Position rack in center of oven and preheat to 350°F. Line 12 standard (1/3-cup) muffin cups with paper liners. Whisk flour, baking powder, baking soda, and salt in medium bowl to blend. Mash bananas with fork in another medium bowl until smooth. Mix sour cream and vanilla into bananas.
Using electric mixer, beat sugar and butter in large bowl until light and fluffy, about 3 minutes. Add egg and egg yolk and beat until well blended. Add flour mixture in 3 additions alternately with banana-sour cream mixture in 2 additions, beginning and ending with flour mixture and beating just until blended after each addition. Divide batter among prepared muffin cups (generous 1/4 cup for each).
Bake cupcakes until tester inserted into center of each comes out clean, about 20 minutes. Transfer cupcakes to rack and let cool completely.
Sift powdered sugar into large bowl. Add cream cheese, butter, and peanut butter. Using electric mixer, beat mixture until smooth. Spread frosting over top of cupcakes, dividing equally.