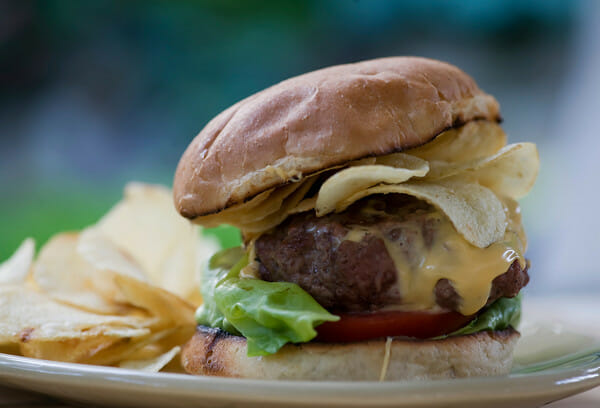 1½ pounds ground chuck (80 percent lean) or ground turkey (90 percent lean)
Kosher salt and freshly ground black pepper
1½ tablespoons canola oil
8 slices American cheese, each ¼ inch thick
4 potato hamburger buns, split; toasted if desired
4 slices beefsteak tomato
4 leaves romaine lettuce
4 slices red onion
Horseradish Mustard Mayonnaise
4 handfuls of potato chips
1. Divide the meat into 4 equal portions (about 6 ounces each). Form each portion loosely into a ¾-inch-thick burger and make a deep depression in the center with your thumb. Season both sides of each burger with salt and pepper.
2. Cook the burgers, using the oil and topping each one with 2 slices of cheese and a basting cover during the last minute of cooking.
3. Place the burgers on the bun bottoms and, if desired, top with tomato, lettuce, onion, and a dollop of horseradish mustard mayonnaise. Pile on the potato chips, top with the bun tops, and serve immediately.