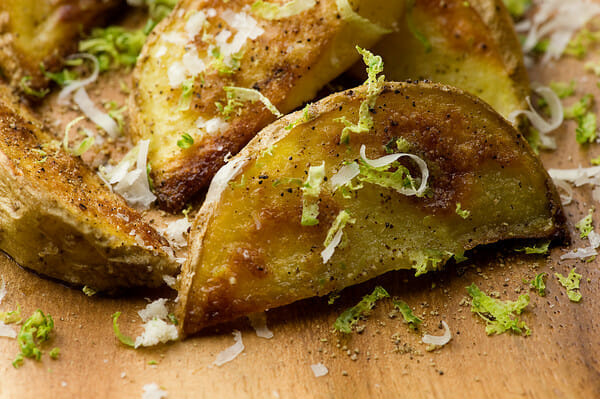 For me, summer cooking is all about the grill wherever possible. Steak, chicken, seafood, corn, grilled pizza(happy happy sigh)…and since the Southern husband is an impresario at the grill, life in the summer is even better. There's nothing like sitting on your back steps, glass of merlot in hand, watching the love of your life do the cooking.However, it DOES entail coming up with more side dishes than I, lover of one dish cooking, am normally used to, so I am always doubly happy when I come across a really fun one. These lime fries are from the fabulous 101 Cookbooks blog, and they are both super-easy and very yummy. And pretty darn healthy, as they are the variety of fries that cook in the oven with just a drizzling of olive oil. They involve lots and lots of black pepper, and for that extra zing (here's the part that especially caught my eye), a drizzling of lime juice and some fresh grated lime peel.
Some grilled steak/chicken/seafood, some lime fries, a warm summer evening…ah yes.
Black Pepper and Lime Fries

, adapted from 101 Cookbooks 

Black Pepper and Lime Fries

Ingredients
1½ pounds small potatoes, cut into wedges
3 tablespoons extra virgin olive oil
sea salt
freshly ground pepper
1 lime, zested and cut into wedges
⅓ cup Parmesan cheese, grated (with a microplane grater if you have one)
Instructions
Preheat oven to 375.
In a medium bowl toss the potato wedges with the olive oil, about a teaspoon of sea salt and ½ teaspoon of black pepper. Arrange the potatoes cut side down on a baking sheet.
Bake for about 40 minutes or until golden brown.
When the potatoes are done, grind more pepper on top, drizzle with lime juice, sprinkle with lime zest and parmesan cheese and serve.