Oh yes, it is really and truly grilling season, and you know what that means…time to break out the barbecue sauce! In our house, our favorite sauce (after much taste-testing of many sauces) is something called Stubb's. It comes in all kinds of flavors, and our preference at the moment is for the Hickory Bourbon variety.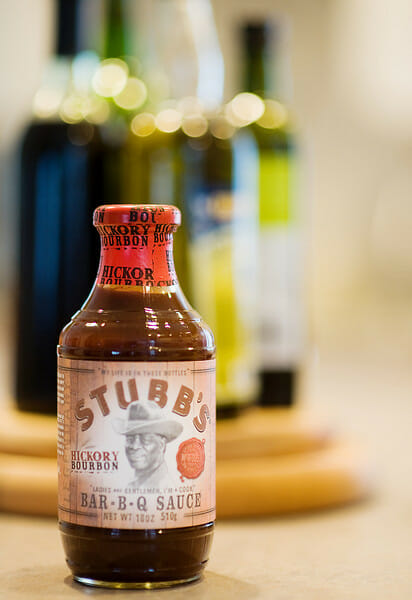 I had it out to make my dangerous BBQ Casserole a little while back, and the southern husband must have found a website on the jar while he was holding it lovingly in his arms, because the next day there was a print-out on my desk for a recipe entitled Sheriff Stubb's Gorgonzola Burgers. Well technically it was half a recipe, because he only printed out one page. Maybe he thought if I had the general idea I could just wing it. But it's the thought that counts, and he happily ran back and printed the rest of it when I said I just might make these if I actually had the whole recipe.
Now, the reason these are called Sheriff Stubb's burgers is (I think) because of the apple slices that go on top of the burger. The recipe says to cut perpendicular slices of a Granny Smith apple and pop the seeds out of the center, leaving you with what they call a Sheriff's Star. So I did…and sure enough, there was the star.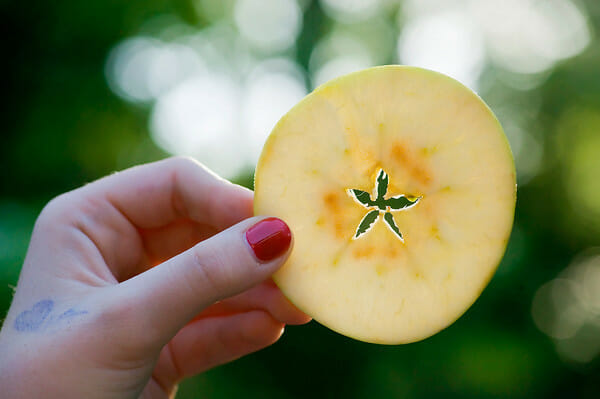 Slight digression: that is the teenager's hand, and please note the blue heart drawn in magic marker. I have asked her approximately 900 times not to draw on her hands, or arms, or feet, or other body parts…and inevitably at least once a week she is sitting at the dinner table with more artwork on herself. Which leads to this:
Me: I thought I said please don't draw on yourself with ink?
Her: My friend did it and I didn't notice.
or…
Her: I didn't have any paper
or…
Her: I was bored and I couldn't help it!
Etc.
Anyway, you pop these apple slices on the grill alongside your burgers (which by the way have been made by mixing a little bbq sauce in with the meat and wrapping bacon slices around the burgers), and you grill them up together until the burgers are cooked to your liking and the bacon is done and the apple slices are warm and a little soft. Meantime you mix up some crumbled blue cheese with a little more bbq sauce until you have a nice little spread — you can see it on the bottom of the bun on that picture up top. Layer it all together, and there you go. Go make 'em.
Sheriff Stubb's Gorgonzola Burgers 

Sheriff Stubb's Gorgonzola Burgers

Ingredients

1lb Ground Beef

8 Slices of Bacon

3 Tbs of Stubb's Bar-B-Que Sauce

½ Cup Gorgonzola Cheese

Medium Granny Smith Apples

Hamburger Buns

Directions

1. Combine 1lb ground beef with 3 Tbs Stubb's BBQ Sauce. Form 4 patties, wrap each patty with two pieces of bacon, securing with toothpicks. Baste thoroughly with Stubb's Bar-B-Q Sauce and set in refrigerator until ready to grill.

2. Thinly slice apple perpendicularly to the core. Slices should be about 1/8 inch thick. Gently remove any seed pieces, leaving a Sheriff Star in the middle. Set aside until ready to grill.

3. Combine ½ cup gorgonzola with 1/3 cup Stubb's Bar-B-Q Sauce. Gently blend leaving slightly lumpy. Refrigerate until use.

4. Cook burgers and Sheriff Star apples on the grill over medium heat.

5. Lightly toast buns and spread bottom bun with Gorgonzola Spread. Remove toothpicks from cooked burgers, top with Sheriff Stubb Apples Badges and serve on top of prepared bun.