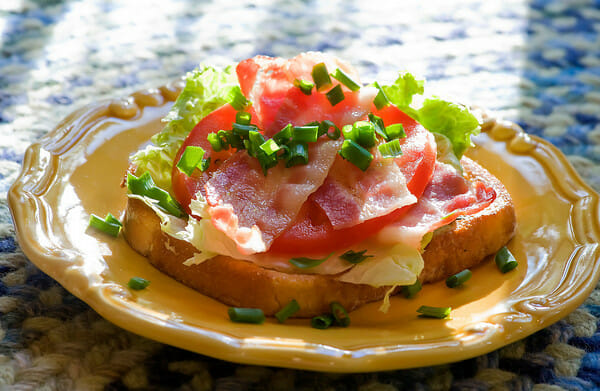 We are french toast FANATICS in my house. The teenager has said to me more than once that when she comes home from college it is going to be to see me and her dad and to eat some of my homemade french toast. (Not necessarily in that order, I'm guessing, but she is too sweet to put it that way.)
Anyway, I am always trolling for new french toast recipes and up until now they have all been variations on the sweet breakfast version. Until the other day, when I ran across this one, which is definitely a dinner version. It's the same basic concept — bread soaked in egg and fried — but oh, man…this time with chives and fresh ground pepper in the egg, and with a BLT topping.
I am getting heart palpitations just reliving it.
I don't think I have anything more to say about this one, except, please go make it right now, so you understand what I am talking about.
Savory French Toast BLTs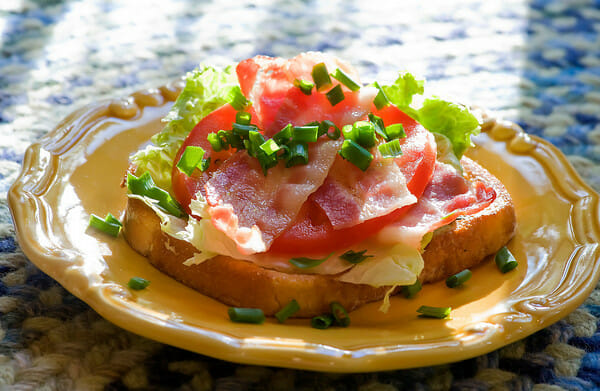 Ingredients
8 slices bacon
4 large eggs, slightly beaten
3/4 cup heavy cream
1/4 cup chopped chives, plus more for garnish
coarse salt and fresh ground pepper
4 slices bread
4 lettuce leaves
8 slices tomato
Directions
1. Cook bacon using your preferred method, drain on paper towels, set aside.
2. Whisk together eggs, cream and chives. Lay bread slices in single layer in shallow dish and pour egg mixture over. Soak for 3 minutes, turn bread over and soak for 3 minutes more.
3. Heat butter in large skillet over medium heat. When butter sizzles, add bread and cook until golden, about 3 minutes per side.
4. Layer lettuce, bacon and tomato on each slice of french toast, garnish with chopped chives and serve