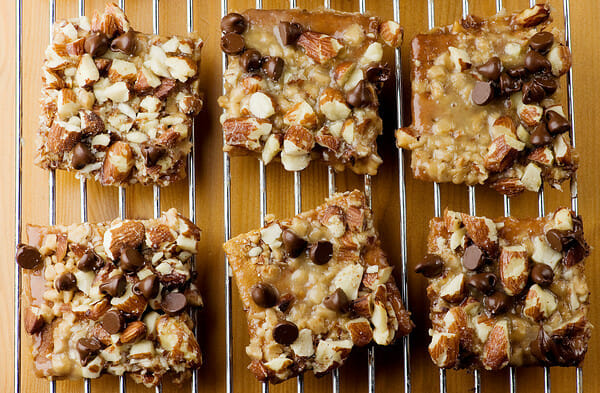 12 graham crackers broken into squares
1 8 oz bag toffee pieces (found in the baking aisle)
1½ cups roasted, salted almonds, roughly chopped
1 cup unsalted butter
½ cup granulated sugar
¾ cup semi-sweet chocolate chips
¾ tsp sea salt
Set the oven rack in the middle of the oven and preheat to 350 degrees. Line a rimmed baking sheet with non-stick foil.
Lay the graham crackers on the baking sheet, touching each other. Sprinkle the toffee pieces and the chopped almonds evenly over the crackers. Set aside.
Combine the sugar and butter in a small saucepan and cook over medium-high heat, stirring occasionally. Bring the mixture to a boil and then reduce the heat to medium-low. Simmer for a few minutes, until the mixture has the consistency of a syrup. Remove from heat and pour over the graham crackers, trying to soak all of them.
Bake for about 12 minutes until the top is bubbly. Remove and immediately sprinkle with the chocolate chips and sea salt. Let cool for about 10 minutes, and then use a pizza cutter to cut into 2 inch squares. Transfer the squares to a cooling rack.